Posted on 10 March, 2016 by Connecting Country
The Feathered Five inspire many people – and our Feathered Five Festival showcases some of the resulting work ranging from artists, singing groups and scientists.
For local artist Hannah Vellacott, they have inspired a series of paintings titled 'Diamond In The Woods". These paintings will be on show during the Feathered Five Festival at the Corner Store Merchants (220 Barker St Castlemaine) from the 12 March until 9 April 2016.
Hannah describes her work: "In these paintings I aim to capture the beauty and fragility of the feathered five, through detail and the gentle wash of colour that is unique to watercolour painting. The use of white space is inspired by traditional Japanese ink paintings. I like the way the objects appear to float on the paper and your eye is drawn to the details in the bird or flowers."
For local singing group, the Chat Warblers, they have inspired a new song! Written by Judith Tregear and mixed by Jane Thompson, the song will debut at our evening forum on Saturday the 19th of March. We cannot wait to hear it!
For world renowned ecologist, Andrew Bennett,  woodland birds have inspired his long-standing research interests in landscape ecology and conservation biology, with a particular focus on understanding how human land-use and landscape change affect native wildlife and ecological processes. At the evening forum, Andrew will share the results from his recent research into woodland birds in Central Victoria and lead a topical discussion about "Drought then flooding rains: how do woodland birds respond to climatic change?"
Spots are still available for the evening forum, but are filling fast. CLICK HERE for more information and to make a booking. Bookings close on the 17th of March 2016.
Posted on 25 February, 2016 by Connecting Country
Connecting Country, in partnership with the Midland Express, has launched its new monthly 'Nature News' feature.  Look out for these these articles by local naturalists appearing in the Midland Express on the first Tuesday of the month (or thereabouts). For the February edition, Tanya Loos shared her experiences about one of our local feathered friends; the Diamond Firetail. This article is reprinted below.  Keep an eye out in the next one or two editions of the Midland Express for an article on local snakes by Bernard Slattery.
Of relevance to the article below, at the Saturday evening forum of our feathered five festival (19-20 March 2016), Andrew Bennett will be discussing his research on how woodland birds are responding to climatic change and Phil Ingamells will share some tips from the experts on how we all can help. Click here for more information on the festival and to secure your spot for the talks.
Dry Times for the Diamond Firetail.  By Tanya Loos.
As our gardens and paddocks wilt in the ongoing dry, access to water for fauna becomes ever more important. One visitor to the bird bath that is sure to delight the senses is the Diamond Firetail.
A small bird of great beauty, the Diamond Firetail sports a neat black and grey suit with white spots, set off by a dashing crimson rump and a coral-coloured bill and eye ring. Here in the Mount Alexander region we are fortunate to have small numbers of this rare bird in the local bushlands.
Diamond Firetails feed on seeds of both grasses and native trees such as she-oak. One day at the Rise and Shine Bushland Reserve south of Newstead, I chanced upon a lone Diamond Firetail foraging with a distinctive series of moves. He trundled along the ground, then leapt up to a grass seed head, grabbed it firmly in his bill, then stood on the grass head to eat the seeds. The process was repeated at the next grass tussock.
Living on seeds alone is thirsty work, and Diamond Firetails need a safe source of water in their bushland or woodland habitat. In dry times, one way to help firetails and other birds is through the provision of a bird bath or two. Bird baths are a wonderful way to enjoy your local birds, but do bear in mind they require daily maintenance to ensure the water is clean, and always topped up.
It is too hot and dry for breeding at the moment, but after the rains return and seeding grasses are available, nesting will occur anytime from August. To attract the female, the male Diamond Firetail selects a long piece of grass with a seed head, and holds it tightly in his bill. He then fluffs his spotted flank feathers and sings as he bobs up and down on the perch.
If the female approves, they will mate in the privacy of the nest. The nest is a domed affair, of grasses, seed heads and roots, and may be found in a mistletoe clump or a thick shrub such as Hedge Wattle. A few years ago, I observed a Diamond Firetail nest built amongst the large sticks of the base of a Wedge-tailed Eagle nest!
The Diamond Firetail is less common than it once was, largely due to the removal of suitable habitat. Happily small populations are still being reported in areas such as Muckleford, Guildford, Fryerstown and Sedgwick. If you have Diamond Firetails visiting your garden, or you see some out in the bush, we would love to hear from you!
For more information about the Diamond Firetail and other woodland birds, visit Connecting Country's website: www.connectingcountry.org.au or contact Tanya on tanya@connectingcountry.org.au.
Posted on 15 February, 2016 by Tanya Loos
There's diamonds in those hills – Diamond Firetails, that is. This jewel of a bird is one of the 'feathered five', our very special woodland bird species that are a focus for Connecting Country. Over the years, we have supported a number of on-ground projects that strive to ensure these five species and other woodland birds are flourishing in the Mount Alexander region of central Victoria now and in the future.
Our inaugural Feathered Five Festival is a celebration of woodland birds and their habitat with two days of birdwatching, activities and talks over the weekend of 19-20 March 2016. However, you don't need to be a budding birdwatcher to attend the free Saturday Evening Forum on the 19th of March in Campbells Creek.
From 5pm until 6pm, Connecting Country staff members will be on hand to answer your land management concerns; Bonnie Humphreys can help you identify any plant, Jarrod Coote will consider whole farm planning and funding opportunities, Tanya Loos knows lots about birds and other fauna,  Alex Schipperen is great with practical things such as fencing and the control of weeds and rabbits, and Asha Bannon will help you link-up with your local Landcare Group. You can bring along any plant samples you'd like identified and you can contact us beforehand if you'd like a detailed aerial photo of your property to discuss. Meanwhile, Judy Laycock will be running some exciting nature art activities with the kids.
Following a tasty dinner from Growing Abundance and music by Castlemaine's Chat Warblers, we are thrilled to have Professor Andrew Bennett, from Latrobe University and the Arthur Rylah Institute, and Phil Ingamells, from the VNPA, share their thoughts on the future of biodiversity in the area. Andrew has been a scientific advisor to Connecting Country since 2010 and will discuss "Drought then flooding rains; how do woodland birds respond to climatic change?". Phil Ingamells is sure to inspire us with his talk "Collaborating on ten things we can all do to help nature adapt to a new climate". A short panel discussion will take place after the talks.
On both mornings of the Feathered Five Festival, bird walks in search of the feathered five will occur in various locations around the Mount Alexander region. Connecting Country's Woodland Bird Coordinator, Tanya Loos, explains; "in the last year or two, through walks and workshops, we have been encouraging a cohort of budding birdwatchers to get out there and improve their birdwatching skills. This weekend is their time to shine as a number of community led walks will be carried out simultaneously on the Saturday morning – the feathered five drive!"
On the Sunday morning, we're pleased take part in a guided nature walk with a special focus on woodland birds and their habitat. The walk will take place at a private property in Strangways which is a woodland wonderland, with a lovely grassy understory and grand old eucalypts. This joint Connecting Country and the Friends of Box Ironbark Forest (FOBIF) event will be led by Tanya Loos (Connecting Country) and Andrew Skeoch from Listening Earth.
You can come to one event –or all three! Bookings are essential – by the 17th March 2016. Click here for more information and to book, or call Connecting Country on 5472 1594.
This festival has been made possible with funding from the Helen Macpherson Smith Trust and the Australian Government.
Posted on 11 December, 2015 by Tanya Loos
Last Saturday, 5 December 2015, over 25 of us were treated to a morning workshop with author and photographer, Chris Tzaros.  Chris is a wonderful presenter and ecologist, and his talk was a fantastic overview of the bush birds of the 'Connecting Country landscape'. Chris likes to call them bush birds rather than woodland birds, because as he rightly pointed out, many of our so-called woodland birds are found in the area's extensive Box Ironbark Forests.
I was also really amazed by Chris's ability to mimic bird calls – no need to play the smartphone bird call app at all!
In a comprehensive presentation,  Chris pointed out that we have a particularly rich bird fauna in this area on account of being at the intersection of many different landscapes. There is the Loddon River and the surrounding plains, Cairn Curran and the open country, the dry forests of Sandon and Muckleford, Mount Alexander and the River Red gum plains of Sutton Grange and surrounds.  We also have quite good patches of bush left, which means that our declining woodland birds are faring a bit better here than in other more degraded areas. Chris gave us a great overview of the birds of this area, including a special focus on the feathered five – the five species selected as ambassadors for woodland birds in the region.
Chris has provided training for many bird monitoring programs around Victoria across a diverse range of landscapes and communities. The bird monitoring method is kept consistent by training each area across the state to use the standard 2 hectare 20 minute bird survey.  This is the methodology recommended by BirdLife Australia, and also the method we use to monitor birds for our seasonal surveys.
As Connecting Country's woodland bird coordinator, I also introduced everyone to the eleven zones identified as priority habitat areas in the region for declining woodland birds, and directed participants to the Group Sites which are the starting point for our community monitoring program.  The link below takes you to the bird monitoring page which has both the Group Site maps and a birdwatchers kit (in PDF format) – with instructions on how to survey, how to submit data and so on:  all of which are available for download (click here).
After the presentations, we visited the Rise and Shine Reserve and carried out a 2 hectare 20 minute survey at the Rise and Shine Group survey site. We were delighted to see one of the feathered five – a Jacky Winter – nesting at the entrance to the reserve!
Chris was very impressed with everyone's enthusiasm and the willingness  to start counting birds, both on their properties and in the surrounding areas.  We will be building on this energy in 2016, with monthly bird outings, a Feathered Five Festival (19-20 March) and a new program called Stewards for Woodland Birds. Watch this space!
For more information or to get involved, please telephone me (Tanya Loos) at the Connecting Country office on 5472 1594, or email tanya@connectingcountry.org.au
Posted on 24 November, 2015 by Connecting Country
The Mount Alexander Landcare Forum took place back in June this year, but it's not too late to benefit from hearing what the presenters had to say (and sing) on the day.
Local videographer Jim Coad (Starfish Video) filmed each presenter at the forum and these have now been made available online via 'Vimeo'. There are four videos from the Forum, covering the topics:
Each video goes for 30 – 40 minutes so you might not want to sit and watch them through. I would suggest turning up the volume and having a listen while you do the ironing  – or something like that!
Click on the titles of the videos in the text above to view them on Vimeo.
A big thank you to Jim for his filming and editing, and to the North Central CMA for making the Forum possible.
Posted on 18 November, 2015 by Tanya Loos
On the first Saturday of December, join a small group of bird observers for a morning with ecologist and photographer Chris Tzaros. Chris shall take us through the ins and outs of monitoring woodland birds – with a special focus on the collection of data for Connecting Country and BirdLife Australia.
We are currently looking for volunteers to carry out regular bird surveys on both private and public land across the Mount Alexander region. In particular we are searching for the feathered five: the Jacky Winter, Painted Button-quail, Hooded Robin, Brown Treecreeper and Diamond Firetail. Attending this workshop would be a great first step in getting involved.
The workshop will cover:
A background to bird identification and bird fauna of the Mount Alexander region.
Bird monitoring methods of the monitoring project (including a practical component).
The role of community volunteers in ecological monitoring projects.
Some experience in bird watching is desired, however we are open to any enthusiastic attendees! Be quick though – we have just a few places left.
When: Saturday 5th December 2015 , 9am-12pm  (followed by lunch until 1pm).
Where: Newstead Community Centre, Newstead.

RSVP: Essential! Contact Tanya Loos on 03 5472 1594 or by  email tanya@connectingcountry.org.au. Please detail any dietary requirements.
 About Chris Tzaros: Chris is a wildlife ecologist and nature photographer for his company; Birds, Bush and Beyond. In 1997 he was awarded Young Australian of the Year in the Victorian environment category in recognition of his commitment to box-ironbark conservation and his dedicated work on threatened birds such as the Grey-Crowned Babbler and Swift Parrot. In 2005, Chris authored a comprehensive book on the Wildlife of Australia's Box-Ironbark Country. Chris is also an accomplished bird photographer and has contributed many beautiful images to Connecting Country's Woodland Birds Brochure.
Posted on 16 November, 2015 by Connecting Country
Renowned local ecologists, Elaine Bayes and Damien Cook have produced two terrific youtube videos:'Frogs and their Calls'  and 'Frogs and their Habitats'. The information is well presented and relevant to our local area. Each goes for about 30 minutes. Click on each image below to view: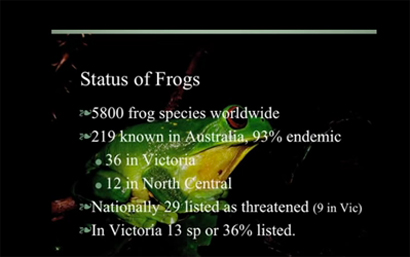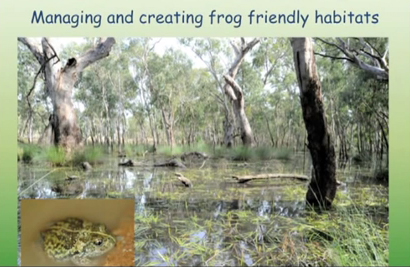 Posted on 2 November, 2015 by Connecting Country
Did you know that there are at least 3 distinct species of Blackberry found in our area? Each of these have a different physiology and hence may require a different type of control. The importance of proper identification of weeds when deciding on appropriate management actions was stressed by DELWP Senior Botanist, David Cameron, at our "Back from the Brink" weeds workshop on Sunday 25 October 2015.
Alongside David, local contractor Matt McEachran, and Landcarers Frances Cincotta and Maurie Dynon shared their considerable wisdom and practical experience to help participants learn to identify weeds and the most appropriate techniques to managing them, from herbicide use to re-vegetation with native plants.
To find out more about the workshop session or to access some of the useful resources that were provided, please click here.
This workshop concludes our 2015 education program. If you missed out, summaries and resources from all sessions are provided in our education pages. Planning for the 2016 program is now underway – feel free to contact Krista on 5472 1594 or krista@connectingcountry.org.au to offer your suggestions or to find out more.
The 2015 workshop program was supported by Connecting Country through funding from the Australian and Victorian governments.
Posted on 22 September, 2015 by Connecting Country
A warm spring day greeted participants and presenters at Connecting Country's third spring workshop on Sunday 13th Septmeber 2015, this time at the stunning bush property of Beth and Rick Higgins in Yandoit .
Three exclusion plots on the property generated lots of discussion about setting goals, location, choosing the right type of fence, and the on-going management requirements.
Presenters Alex Schipperen (Connecting Country's Works Crew Team Leader), Judy Crocker (Landcare Facilitator for the Mid-Loddon Landcare Network – and involved in a program using fences to protect Bush Stone Curlews), and Paul Foreman, (Ecologist with Blue Devil Consulting) had plenty to offer in terms of practical experience and observations about conservation fencing.
To read more about the session or to access our online resources, please click here.
Our fourth and final workshop for 2015, Back from the Brink, will be focusing on dealing with potential problem areas on your property – like weed control, waterway enhancement and erosion management. Registrations are now open for what is set to be another very insightful session. Click here to download a registration form.
The education program is supported by Connecting Country through funding from the Australian government.
Posted on 7 September, 2015 by Connecting Country
Did you know that Cassinia is a super-food for native moths? Or that lichens are actually the result of an algae and fungi working symbiotically? Twenty-four eager participants learnt this and so much more at Connecting Country's Biodiversity in the Paddock workshop on Sunday 30th August 2015.
A huge thank you to landholders Peter Hansen and Sally Roadknight for inviting the Connecting Country team to their beautiful property at the foot of Mt Tarrengower to hear from presenters Cassia Read (on moss and lichens), Steve Williams (on moths) and Karl Just and Gordie Scott-Walker (on native flora).   Geoff Park (from Natural Decisions and Natural Newstead) expertly kept the flow, whilst highlighting the stunning bird life to be found all around in the property.
A farm tour allowed participants to see for themselves the impressive impact of tubestock planting, natural regeneration through removing grazing, and the effects of erosion control on the creek which funnels run-off from Mt. Tarrengower through their property. Gordie provided us with a detailed list of the reptiles and amphibians, and the hundreds of birds and plant species that he has observed on his parents property, reminding everyone of the gains to be had from regenerating land.
The message of the day from all four presenters was the huge value of biodiversity in the paddock, from the mosses and lichens which hold soil together, to the beautiful variety of moths which feed from and live on all kinds of plants – never has Cassinia arcuata ('coffee bush') appeared such a fascinating and valuable plant in the landscape.
Click here for more information and resources from this session.
Also, there are a few places remaining for our next workshop on Sunday 13 September on Conservation Fencing – click here for more information.
The education program is supported by Connecting Country through funding from the Australian government.
Posted on 3 September, 2015 by Connecting Country
'Conservation Fencing' will be the topic of Connecting Country's third Spring 2015 Education workshop, to be held in the Yandoit area on Sunday 13 September. Registrations are open for what promises to be an educational and practical day!
Property owners Beth and Rick Higgins manage a large tract of bush in Yandoit, and over the years have established four exclusion zones, and experimented with differing approaches to revegetation over these sites. This session will use their property as an example to introduce participants to the role of conservation fencing.
Renowned ecologist Paul Foreman, from Blue-devil Consulting, shall introduce us to conservation fencing and its role in improving biodiversity including ways to design, place and measure its impacts on regeneration. With his detailed knowledge of local flora, he will take us on a plot ramble to see what's there and what's not and why.
Alex Schipperen, Team Leader for Connecting Country's Works Crew team, will talk about types of fencing and give a practical demonstration in erecting a small exclusion plot. Alex has over 40 kms of fencing under his belt so he knows what he's talking about!
We will also be fortunate to have Judy Crocker, Landcare Facilitator for the Mid Loddon Conservation Management Network, inspire us with her successful Bush-stone Curlew project that is protecting current breeding pairs by creating five 4-8ha, predator proof nesting sites in woodland areas.
Further details for the day including transportation will be provided upon registration. The workshop costs $30 or  $20 for Connecting Country members. Please contact Jules on jules@connectingcountry.org.au or call 5472 1594 to register. Click here for more information on the workshop series, and CLICK HERE to download a registration form. The program is supported by Connecting Country through funding from the Australian government.
Posted on 20 August, 2015 by Connecting Country
Like many landholders in Mount Alexander, Beth and Rick Higgins have installed exclusion fencing to restore and regenerate biodiversity on their property, especially the understorey, herbs and grasses – the results of which are dramatic and inspiring. You can come and see for yourselves at Connecting Country's third Spring Workshop,  Conservation Fencing.
There are many reasons install exclusion fencing on your property. You may want to keep out herbivores (such as stock, rabbits or kangaroos) from a revegetation or restoration site, or prevent damage from people, or even keep out introduced predators to have a safe place for native fauna to flourish.
Ian Higgins from the North Central Catchment Management Authority, will be giving us an overview of exclusion fencing and its role in improving biodiversity and taking us on a 'plot ramble' to see what's  there and what's not. He will also discuss ways to monitor success. Connecting Country's incredibly skilled crew leader, Alex Schipperen, will then talk about the practicalities of installing fencing – including identifying what you are protecting, what are you protecting it from, and how best to do it? We'll have other special guests on the day too.
When: Sunday 13 September 2015, 10am – 3.30pm.
Where: Yandoit (details provided upon registration). Transport available from Castlemaine.
Cost:  $30 per person or $20 for Concession and Connecting Country members.  Includes morning tea, lunch by C.A.K.E, session notes and handouts, and follow-up web-based resources.
Registration: Register now as limited places remain. Click here to download a registration form, or contact Jules or Krista at Connecting Country for further information.
This workshop is the third of four in the Spring series which aim to give participants skills and knowledge on working with nature to improve biodiversity. Places are still available for the Biodiversity in the Paddock session to be held on Sunday the 30th of August (click here for more information) and for the last workshop, Back from the Brink, covering controlling weeds and other threats in restoration projects (25 October). Click here for more information on the workshop series. The program is supported by Connecting Country through funding from the Australian government.
Krista Patterson-Majoor, Community Engagement

Posted on 10 August, 2015 by Connecting Country
Fire. For many of us it conjures up a range of feelings; "confused … worried … fearful … ignorant … conflicted … overwhelmed …" . For those of us who attended Connecting Country's Living with Fire and Wildlife workshop on Sunday the 2nd of August we now feel better informed and more confident when it comes to thinking about fire on our properties.
A brilliant team of presenters included Owen Goodings, Julie Whitfield and David Cheal gave a strong and united message that we can enhance biodiversity and manage fire risk at the same time. Andrew and Sarah's stunning bush block in Strangways provided the perfect backdrop to our discussions.
We all gained a lot from the day – from a better understanding fire behaviour in the bush, to comprehending the complicated interactions of our flora and fauna, to having an idea of suitable plants for around the house.
More information, resources, and a excellent summary from workshop participants Helen and Ian Scott is available here. A new forum topic has also been started for those who would like to continue the conversation; click here to get involved.
Our huge thanks to our presenters, our hosts, and to Chris Johnston for her expert facilitation that made the day flow so smoothly.
Preparations are currently underway for our next workshop; "Biodiversity in the Paddock". Here is your opportunity to learn a little more about the often hidden gems of your property – the mosses and lichens, ants, and moths and how they all fit into the bigger landscape picture. Places are filling fast, click here for more information and to reserve your spot.
The 'Working with Nature to Improve Your Property' 2015 Workshop Program is supported by Connecting Country through funding from the Australian government.
Posted on 23 July, 2015 by Connecting Country
Earlier this week I had a taste of what happens when you get a botanist, an ecologist and a fire specialist looking at a local bush property. The conversation flowed from our relationship with fire, to fire behavior and ecology, to the response of local plants. Their different views were fascinating, but they did agree that it is possible to have biodiversity and to manage for fire risk.
On Sunday the 2nd of August 2015 from 10 am – 3.30 pm, you too can take part in, and learn from, this conversation at Connecting Country's 'Living with Fire and Wildlife' workshop.
Facilitated by Chris Johnston, participants will hear the perspectives of three experts including Owen Goodings (CFA – Statewide Team Leader Vegetation Management), David Cheal (Fire Ecologist – ex-DEPI and now Federation University) and Julie Whitfield (Field Ecologist, ex-DEPI and now Amaryllis Environmental).
Andrew Skeoch's property in Yandoit will be the ideal venue – a 110 acre bush block that will allow us to consider planning in relation to fire and biodiversity in a meaningful way. Through practical exercises on the day, you will be encouraged to consider how you can manage fire risk, and enhance biodiversity,  on your own property.
The workshop costs $30 per person or $20 for Concession and Connecting Country members.  Included is morning tea and lunch by C.A.K.E, session notes and handouts, and follow-up web-based resources. Transportation from Castlemaine is also available.
Register now as limited places remain. Click here to download a registration form, or contact Jules or Krista at Connecting Country for further information.
This workshop is the first of four in the Spring series which aim to give participants skills and knowledge on working with nature to improve biodiversity. The following workshops will cover identifying and enhancing biodiversity in the paddock (30 August), using exclusion fencing to restore habitat (13 September), and controlling weeds in restoration projects (25 October). Click here for more information on the workshop series. Discounts apply if you attend all four of our Spring Workshops.
Krista Patterson-Majoor, Community Engagement Coordinator
Posted on 29 April, 2015 by Connecting Country
Anthony Battersby, the farm manager at 'Shadwell' in Elphinstone, kindly hosted the third workshop in our Autumn Biodiversity Workshop series -'To Plant or Not To Plant". Hardy participants braved the cold and visited three sites on the property where habitat restoration work is being undertaken part of managing the Black Angus beef production on the property.
Anthony outlined the work he has overseen over the last fifteen years, talking about motivations, successes and challenges in planting indigenous tubestock for wind breaks. Many thanks to Anthony for his time and generosity in sharing his experiences and insights with the workshop participants throughout the day.
Our second presenter on the day, Marion Da Costa from Dunolly, drew on ample experience in restoration though her efforts in returning her bare paddock into a grassy woodland. Marion has written a book titled My Place: Bare Paddock to Bush and gave a presentation which covered the story of this experience. Marion highlighted the importance of observing, planning, working gradually, weed control and making observations.
Throughout the day Jarrod Coote, Connecting Country's Connecting Landscapes co-ordinator, provided his insights about revegetation and other restoration techniques. He also gave a final presentation about direct seeding, planting equipment options and rabbit control techniques.
Thanks to Anthony, Marion and Jarrod for their contribution to an informative and practical workshop. Thanks also to Jules Walsh and Chris Timewell for driving the buses and Shane Carey for the fantastic photos and our work experience student Courtney Rosedale for her help on the day.
For further references and reading on various techniques for restoration please visit our webpage (click here).
A new revegetation topic has been established on the Discussion Forum so that the conversation and questions can continue. If you are not already a registered Forum user, you follow this step by step guide to join (click here). Or you can simply view the forum (click here).
Posted on 8 April, 2015 by Connecting Country
The 2015 Connecting Country Workshop Series has provided an opportunity for members of the local community to learn about broader landscape issues, and how to manage them successfully. First off was the very successful launch with guest speaker Bill Gammage discussing Aboriginal management of the Australian continent. Subsequent workshops have covered how to understand your property in the local and historical context, and also how adjoining landholders can work together to create habitat connections for birds and other animals. The feedback from one resident after the latter workshop was, "Great to build on previous learning, and gain new knowledge, as well as receiving encouragement to keep going!"
The next workshop in the Autumn series is coming up on Sunday 19th April 2015 is intended to expose participants to a range of revegetation and restoration techniques. It will be held on a working farm in Elphinstone where restoration is an ongoing part of managing the property.
The presenters on the day will include Marion Da Costa who will talk about her efforts in restoring her central Victorian property; a local Elphinstone Black Angus beef farm manager; and Jarrod Coote from Connecting Country who will give a demonstration of direct seeding and other options available for revegetation. Jarrod recently commented that, "Being on country with people that have a range of experiences and expertise is a great way learn what options are available to restore natural values across your land."
To view the full 2015 Workshop Program and register for one of the places that are still available for this workshop, fill out a registration form (click here) or contact Naomi at the Connecting Country office on 03 5472 1594.
Posted on 16 March, 2015 by Connecting Country
Newstead Landcare's first presentation for the year will be on Saturday 28th March at 3pm by Dr Lindy Lumsden, a wildlife ecologist at Arthur Rylah Institute.  The talk will be at the Newstead Community Centre and everyone is welcome to attend (gold coin donation appreciated to help cover our costs). Connecting Country is supporting this educational event.
Lindy has been conducting ecological research on bats for over 30 years. Although based in Victoria, her research has also taken her to remote areas of Australia, such as Christmas Island, and to many countries overseas such as Central and South America, Krakatau, Taiwan, New Zealand, Europe, South Africa and Swaziland.
Bats play an important role in controlling insect numbers, including a range of pest species, by eating up to half their body weight in insects in a night. However, due to their small size, nocturnal behaviour and cryptic roosting habits, these valuable animals are rarely seen and are often portrayed negatively in the media.
Lindy is passionate about trying to reverse these negative perceptions and conducts a wide range of extension activities to educate and enthuse people about the bats. In her talks she describes fascinating and little known aspects of the natural history of these nocturnal creatures. As most people do not have the opportunity to see bats close up, she brings along a live bat to show at the end of her talk.
After the talk Lindy will take a group of 35 lucky people to Green Gully to demonstrate how she goes about discovering what bats are in an area. She will be setting up bat traps and using a bat detector and then we will have a picnic meal (bring your own picnic) while waiting for dusk when the bats start getting active. It's free for Newstead Landcare members, otherwise $15 a head, children free. There are still a few places left so if you are interested contact Frances Cincotta phone 5476 2691 or  email <natives@newstead.vicmail.net>
Posted on 8 March, 2015 by Connecting Country
Often the vestiges of early European colonisation are easier to see in the landscape – bricks, rusting metal, earthmoving, fences, the (child-sized) handprints in mortar  – and they attract our eye, more readily, or easily. We often don't see the many markers of indigenous life – scar trees, ovens, middens – even though the indigenous seems more enduring; still evident more than 160 years later and in use for many hundreds of years before that.
The granite, redgum woodlands of Coliban Park in Sutton Grange was a perfect landscape to explore, interpret and discuss regional land use history at our first workshop for the year, 'The Big Picture" on Sunday 1 March 2015. We were able to see artifacts of white settlement sitting alongside those of the first Australians, and our expert presenters Deirdre Slattery and Gerry Gill helped us to interpret them. Duncan Barber provided us with familial insight, adding to the story – and the sense of scale, and history.  We were also prompted to consider the contemporary challenges of managing – and shaping – the land.
A very special location, expert presenters, and an enthusiastic group keen to know more about this part of the world and the factors that have shaped land use, and thus the landscape, over time. Many thanks to Jess and Duncan Barber for their hospitality and generosity, to Deirdre and Gerry for sharing their knowledge, and to Ann-Marie Monda who represented the Connecting Country Committee. For more information on the session, including links to resources, images and photos from the day, go to our Education Program section and click on the 1 March workshop session.
Note, we still have vacancies for the rest of the autumn workshops, especially the April 19 and May 8 sessions – download a registration form –  registration – autumn – or contact janet@connectingcountry.org.au.
Posted on 27 February, 2015 by Connecting Country
It was over 35 degrees celcius outside – and probably hotter inside the Campbells Creek Community Centre – but that didn't deter around 300 people from attending the launch of the Connecting Country 2015 Workshop Program on Sunday 22 Feb 2015.
The main attraction was historian and award winning author Bill Gammage, who spoke about '1788'* aboriginal land management and 'fire stick farming'. Drawing upon the early records of Colonial explorers and European settlers, Bill has described a systematic and complex system of aboriginal land management throughout Australia, from coast to coast, which included planned and selective burning, to create conditions for prey and plenty. It's a new way of looking at the Australian landscape; which has led to plenty of conjecture and debate amongst scientists and lay-people alike. Undoubtedly, Bill's book has struck a chord in the community on many levels.
What is it about the book that draws this level of interest and engagement?
Perhaps because the scope of his text is large enough to encompass – and also exclude – many and varied views, and perhaps because there is always much difficulty in moving from the big picture, down to the more specific and locally relevant scale. For instance, what do central Victoria's Box Ironbark forests (and their myriad species) need/tolerate/resist in terms of fire duration, intensity and timing? And how does this compare with granitic landscapes on the eastern side of Mount Alexander, or on the basalt plains to the west? And what value do we place today on the areas described as 'scrub' – so full of shrubs, ground-layer plants, logs and leaf litter that provide critical habitat for so many declining woodland birds and other species.
Bill's challenge to all of us is to view our landscape, on both in the large (continent-wide) and lesser (catchment, regional, local, property) levels with fresh eyes.
How much do we really know and understand the inter-relationships of animal, plant, human – and how have they been altered over the past 200 or so years? How can we possibly work to benefit all? We can surmise, through the research of Bill and others such as Ron Hateley**, how it was prior to 1788, but what for the future? How can we learn and benefit from both indigenous and scientific ecological knowledge?
Ultimately, it all comes down to our own particular lens through which we view the world, and our landscapes.
Many thanks to Bill, to Dja Dja Warrung Traditional Owner Trent Nelson for welcoming us to his Country and talking about the contemporary challenges for all of us, to Mal Brown (Scarlet Consulting) for facilitating the session and as always we thank our Committee members, especially Brendan Sydes and Marie Jones who presented on the day. Thank you to the many Connecting Country volunteers and staff members who made the day a success. Also thanks to Alice Barnes from Sovereign Hill who generously audio-recorded the session and has made it available for us to share with those who couldn't make the event or had to be turned away because of the venue limitations.
Some images from the session are available in our Education and Resources Section (Click here). To see what people are saying afterwards, or to comment on the presentation, go to the Forum page (click here).  We hope to have the audio from the presentation available on our website soon.
To sign up for one or more of the Autumn workshop sessions register HERE (NB: the session on the 1st March is now fully booked).
For more information about our education program, contact janet@connectingcountry.org.au or phone 5472 1594.
* Bill uses the term '1788' as shorthand for the beliefs and actions of Aboriginal people at the time of first European colonisation in Australia.
** Ron Hateley's book, "The Victorian Bush – Its 'Original and Natural' Condition.", published by Polybractea Press, provides a comprehensive and compelling perspective on vegetation patterns prior to European colonisation of Australia.
Posted on 20 February, 2015 by Connecting Country
Inspired to do, say, and learn something more after the Workshop launch? 
Connecting Country's autumn workshop series kicks off a week after the Bill Gammage launch, with the first session on Sunday 1 March 2015, 10.30 to 3.30pm, at Sutton Grange. "The Big Picture" will provide an overview of the indigenous and post-colonisation history of our region, using a very special Sutton Grange farming property as the setting.  Access to this private property is rarely available, and so this is a one-off opportunity to see some amazing natural and cultural features.  Guided by expert presenters, participants will gain a better understanding of the land-use history (inc. social, political influences) that shaped our landscapes, from before European settlement through to today.  There are some places for participants still available for this session.
After "The Big Picture", we'll bring the lens down slightly further on Friday March 27. "Making Connections", again in Sutton Grange, will look at landscape ecology and how – and where – landholders can create or enhance habitats areas on their property to benefit wildlife movements, in this case, woodland birds.
Our third session on Sunday April 19, "To Plant or Not to Plant" will get down at ground level to consider the pros and cons of revegetation – what method to use (natural regeneration, tubestock, direct seeding) and how to do it, as well as the plant species to choose.
The final session on Friday May 8, will look at how to evaluate the success, or progress, of your restoration project. "Nature's Stocktake" will look at 'landscape health' and take it's pulse with ways to benchmark, monitor and evaluate, before, during and 'after' your project.
The autumn workshop series will take place in the eastern part of the region, while our  spring workshops are to mostly occur in the west.  The workshops are aimed at people who are managing areas of 4ha/10 acres or more on their own properties – or as part of a Landcare group – and so first preference will be given to those people.  However, the first workshop should be of interest to anyone across the region. Places are limited, so register early.  (Lunch, drinks and other snacks will be provided at each workshop from the locally-renowned Castlemaine Abundance Kitchen Enterprise – CAKE. Education materials, hand-outs and other resources will also be provided.)
Still keen to know more?
Click on the Education and Resources section and you can be a virtual work-shopper.
For more information contact janet@connectingcountry.org.au or 5472 1594.