Wattles of the Mount Alexander Region – Friends of the Box-Ironbark Forests
Posted on 15 July, 2021 by Ivan
We are at the beginning of wattle season, with some of the early flowering wattles already in bloom in our region. There are few things more colourful in our landscapes than the wattle blooming crazy, also often a wonderful scent accompanies. We thought it would be a good time to revisit Friends of the Box-Ironbark Forest's (FOBIF) excellent publication, Wattles of the Mount Alexander Region. We love this guide, with excellent photographs, descriptions and information about each of the local wattles, and some interesting facts about their preferred habitat and ecological value. The book was written by Bernard Slattery, Ern Perkins and Bronwyn Silver and is a tribute to the talent of these local, knowledgeable ecologists and the FOBIF community.
Please find details below, including where to purchase and what to expect in the beautiful developed guide.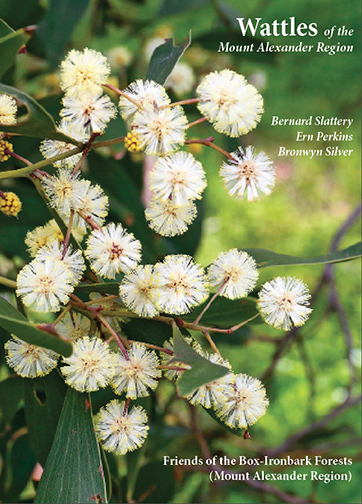 Acacia, known in Australia as wattle, is one of the largest genus of plants in the country — nearly 1000 species! Its brilliant flowers transform winter and spring landscapes. Our sporting teams wear its green and gold colours. Sprigs of wattle flowers adorn official events, and Golden Wattle is our national floral emblem.
But how many wattle species can the average citizen name and recognise?
This 112 page guide, Wattles of the Mount Alexander Region, helps the beginner to make a start. In plain language, and generously illustrated, it presents 21 species which flourish in the Mount Alexander region of central Victoria. And a general introduction explains different features of wattles, helping in identification and appreciation of these tenacious and beautiful plants.
The book is published by Friends of the Box-Ironbark Forests in association with Castlemaine Field Naturalists Club and Connecting Country. The authors are Bernard Slattery, Ern Perkins and Bronwyn Silver.
Recommended Retail Price: $10.00 plus $3 postage and handling ($13)
Price for buyers outside Australia: $18.00 (includes postage and handling)
To purchase your copy through the FOBIF website, visit www.fobif.org.au/wattles-of-the-mount-alexander-shire       
or click here to download an order form to pay by cheque or bank transfer.