Posted on 22 August, 2019 by Ivan
Connecting Country's activities – such as protection of remnant vegetation, revegetation, establishing wildlife corridors, control of pest plants and animals, and biodiversity monitoring – all contribute to climate change adaptation, mitigation and a better understanding of its effects. However, there is more that can be done locally and at larger scales. By working with people in our community to address the direct and indirect impacts of climate change, we hope to create a robust and healthy local landscape that remains livable for future generations of humans and other species.
Ways in which Victorian communities are responding to climate change will be the focus of a new parliamentary inquiry, with the Victorian Legislative Assembly's Environment and Planning Committee inviting public submissions.
A changing climate is affecting biodiversity across the planet. As well as putting increasing pressure on individual species, it will exacerbate the effects of threatening processes in natural areas, such as habitat loss and fragmentation, drought, introduced species, erosion, bushfire and pollution.
The Senate Committee wants to hear from community members and organisations on actions they are taking to reduce the severity of climate change and adapt to its current and future impacts. The inquiry will consider ways in which the government can best support communities in their efforts. Written contributions are welcome by 26 August 2019 and the committee will be conducting public hearings across Victoria to speak with people on the issues they raise.
Details on how to make a submission are available at www.parliament.vic.gov.au/ClimateChangeInquiry
Posted on 22 August, 2019 by Ivan
The Tarrangower Cactus Control Group and Parks Victoria will hold their next Community Field Day on Sunday 25 August 2019, with the group keen to get some new Cactus Warriors on board.
Come and join the Cactus Warriors and Parks Victoria for a morning in the fresh air and learn how best to destroy Wheel Cactus. The location is at the reservoir end of Whitlocks Road, near Maldon VIC. To get there, take South Parkins Reef Road out of Maldon and follow it to the end. The route will be well signposted. The morning's activities finish with a delicious BBQ lunch and friendly chat. The event is family friendly but children must be accompanied by a parent at all times.
For more information on the infamous Cactus Warriors – click here.
Community Field Day
When: 10.30 am to 12.30 pm on Sunday 25 August 2019
Where: End of Whitlocks Road, Tarrangower VIC (near sheep yards), via South Parkin's Reef Road and follow the signs.
Come along kill some cactus and then enjoy a free sausage sizzle
Check out the poster below for a location map or visit www.cactuswarriors.org and subscribe for a monthly field day reminder.
Posted on 14 August, 2019 by Ivan
Fresh off the press! We have received Museum Victoria's published video summary of the fascinating 'Listening to Nature Citizen Science Video', which has been mapping out the sounds of our local bushland. Scientific wildlife surveys are essential for reporting and managing biodiversity, and researchers now listen as well as look.
During 2018, a group of volunteers began a project to monitor nocturnal birds in the Mount Alexander region of central Victoria using song meter recorders. This 'Communities Listening for Nature' project was run by Victoria National Parks Association (VNPA) in partnership with Museums Victoria and Connecting Country.
The Communities Listening to Nature project uses automated sound recorders to monitor birds in their natural environments. The song meters recorded bird calls at many sites over long time periods. Partnering with local groups, the VNPA  installed recorders at several locations, including Mount Worth State Park and surrounding district, Bunyip State Park, Mount Alexander region and the Wombat State Forest.
Each location has its own study design, which has been developed with input from local groups and land managers, and scientists from Museums Victoria. The recorded nature calls will help them learn more about Victoria's nature. The recordings are also added to the public library of Victorian bird sounds managed by Museums Victoria and available to everyone from their online collections. Communities The project was supported with funding from the Helen Macpherson Smith Trust.
For more information on the Listening to Nature Program, please click here.
The video contains interviews with the volunteers and participants of the project and gives a great summary of why the project is vital to our future work. The Listening to Nature project uses spectrograms,  a visual representation of an audio signal, with the pitch or frequency displayed vertically, and the time horizontally. High frequencies (like those made by bats) are near the top of the image, while lower frequencies are near the bottom of the image. To learn more about some of the wildlife sounds recorded during the project in our region, please click here.
The filmmakers acknowledge the elders of the Dja Dja Wurrung community and their forebears as the traditional owners of Country in this region.
Posted on 8 August, 2019 by Frances
Connecting Country and Newstead Landcare Group are delighted to host a presentation by well-known author and biological scientist Tim Low.
Tim will speak on his book 'The New Nature'. Although controversial when first published in 2002, the book was recently updated and its themes are now more relevant than ever. Following Tim's presentation there will be an opportunity for questions and answers, then a cuppa and cake.
Tim Low talk on 'The New Nature'
When: 7.30 pm on Friday 6 September 2019
Where: Newstead Community Centre, Lyons St (Pyrenees Hwy) Newstead, VIC
All welcome. A gold coin donation will help us cover costs. Bookings not required. 
For our event flyer – click here
This event is supported by funding from North Central Catchment Management Authority and Friends of the Box-Ironbark Forests.
Tim Low
Tim Low is a biologist and best-selling author of seven books about nature and conservation. 'Where Song Began' won several prizes, including the Australian Book Industry Award for best general non-fiction. It was praised in the New York Review of Books and recommended by Scientific American. 'The New Nature' was praised by Time magazine and listed by Who magazine as one of the books of the year. 'Feral Future' inspired the formation of a conservation group, the Invasive Species Council. Tim's articles have appeared in Australian Geographic, The Weekend Australian Magazine, The Guardian and many other places. He works partly as an environmental consultant, and has a lizard named after him. He recently returned from a visit to Manchuria as a guest of the China Writer's Association.
'The New Nature'

The conservation movement talks about declining species, as it should, but this leaves many people unaware that some animals and plants are doing better today than ever before, because they have found ways to exploit us. Australia has winners as well as losers. Animals don't have any concept of 'natural' or 'unnatural' so they don't automatically recoil from cities and farms. Sometimes they can do better in cities than in forests – Australian cities and towns are gaining animals over time. Melbourne, Sydney and Brisbane now have peregrine falcons nesting on skyscrapers. Some urbanising species, notably corellas and flying foxes, are becoming sources of conflicts that need to be carefully considered. The notion of wilderness can get in the way of understanding all this because it implies that nature is authentic only when there is no human influence. But animals and plants have been benefiting from humans ever since Aboriginal people began burning the 'wilderness' to manage it.
You can read more about Tim Low and view his Blog and website – click here
Posted on 31 July, 2019 by Asha
If you love birds and our natural heritage, hopefully you've already discovered the Natural Newstead blog. The blog is a wealth of knowledge and expert observations of flora, fauna and landscape in central Victoria. With nearly 2,000 subscribers, it contains some of the best nature photography you will see anywhere. It is run by Newstead resident and local ecological identity Geoff Park, with contributions from other knowledgeable locals. Geoff Park has worked in various roles with the North Central Catchment Management Authority and in the private sector, and is very passionate about biodiversity conservation and on-ground biodiversity outcomes.
If you're not familiar the blog, check it out here: https://geoffpark.wordpress.com
We particularly enjoyed Geoff's recent post about woodland birds enjoying the wetter conditions this winter. To read this post on the Natural Newstead website, click here, or continue reading below.
A proper soaking and then woodland birds
Posted on 1 July 2019 by Geoff Park
Posted on 25 July, 2019 by Ivan
Love it, or hate it, Facebook and the social media titans have changed the way many of us interact with the world and our community. Connecting Country has moved with the times and has an excellent website and a strong online presence through Facebook. It allows us to tell our story, and yours, through image, videos and words, as well as getting feedback from you!
We are sitting very close to 1,000 followers on Facebook, so its time to celebrate the milestone with a give-away prize for our 1,000th Facebook follower! We would like to offer a choice of three local books, to connect and educate our community with our natural heritage. The three books are listed below, all published by our local champions at Friends of the Box-Ironbark Forests (FOBIF).
Wattles of the Mount Alexander Region
by Bernard Slattery, Ern Perkins and Bronwyn Silver
This 112 page guide, Wattles of the Mount Alexander Region, helps the beginner to make a start. In plain language, and generously illustrated, it presents 21 species that flourish in the Mount Alexander region of central Victoria. A general introduction explains different features of wattles, helping in identification and appreciation of these tenacious and beautiful plants. The book is published by FOBIF in association with Castlemaine Field Naturalists Club and Connecting Country.

Eucalypts of the Mount Alexander Region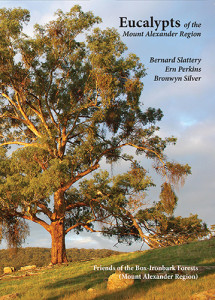 by Bernard Slattery, Ern Perkins and Bronwyn Silver
This 90 page guide aims to help the beginner train the eye to see the differences between eucalypts, and to appreciate how spectacular they are. It presents common species of the Mount Alexander Region, generously illustrated and clearly described in plain language. Though firmly based on forests and reserves around the town of Castlemaine, it describes species common to the whole Box-Ironbark region, and would be useful to any enthusiast in that region, from Ararat to Chiltern. Sections on major species include drawings of buds, fruit, juvenile leaves and adult leaves by Leon Costermans. The book is a community project of FOBIF with a generous grant from the Worrowing Fund through the Norman Wettenhall Foundation. Castlemaine Field Naturalists' Club and Connecting Country also provided support.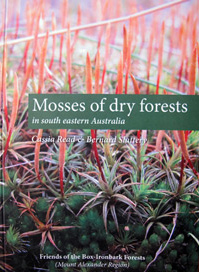 Mosses of dry forests in south eastern Australia
by Cassia Read and Bernard Slattery
A guide for students and absolute beginners – technically accurate, but free of technical language – this book presents a little-known part of the plant kingdom to a new audience. The guide contains an introduction explaining the life cycle of mosses and their importance in the ecosystem, tips on how to approach identification, detailed descriptions of common species, and appendices carefully distinguishing mosses from liverworts and lichens. This is a community project of FOBIF generously supported by The Norman Wettenhall Foundation.

So, who will be the lucky number 1,000th follower on Facebook? Click away for a chance to win, if you're quick ……..
Posted on 23 July, 2019 by Ivan
Explore citizen science and challenges concerning climate change on species conservation
The State Wide Integrated Flora and Fauna Teams (SWIFFT) is a network and an initiative supported by Federation University Australia, the Helen Macpherson Smith Trust, Zoos Victoria, the Ballarat Environment Network and the Victorian Department of Environment Land Water and Planning.
SWIFFT comprises a wide diversity of interests such as Landcare, conservation and field naturalists groups together with members of the community, including farmers and landholders, who share an interest in nature conservation. SWIFFT also has involvement from environmental consultants, local government, tertiary institutions conservation agencies and organisations such as Trust for Nature, Greening Australia, Catchment Management Authorities, Parks Victoria and Connecting Country. All are welcome to join the conversation!
SWIFFT connects people with events, information and others interested in threatened species and biodiversity conservation. They are holding an online video conference on Thursday 25 July 2019 from 9:55 am – 12:15 pm AEST. You can connect from your home, or from a local state government office at Bendigo, Ballarat or further afield (click here for details)
The online event includes the following presentations:
Climate Watch: Informing climate change knowledge gaps through citizen science by Nadia Roslan (ClimateWatch Program Manager at the Earthwatch Institute).
A #BlueCarbonArmy counteracting climate change by Dr Maria Garcia-Rojas (Field Operations Manager, Blue Carbon Army).
Australian Museum's citizen science project 'frog id' by Adam Woods (FrogID Science Communicator and Project Coordinator, Australian Museum).
Redmap by David Mossop (Redmap National Coordinator).
For more information and to register – click here.
SWIFFT requests those attending the video conference in person at an office location to please sign in at reception by 9:40 am. All are welcome to join other participants in the lunchtime conservation conversations following the presentations.
Posted on 18 July, 2019 by Ivan
What is Wheel Cactus (Opuntia robusta)? A plant native to Mexico, this cactus is most commonly called Wheel Cactus in Australia, and believed to be introduced into our country as a 'hardy' garden plant. This cactus species has a distinct blue/green colour and large, flat, round pads with many short and long spines. The pads are circular like a wheel, different to the shape of Prickly Pear. The plant is erect and can grow to 3 metres tall. It has yellow flowers and dark red fruit in spring/summer, each containing approximately 500 seeds which are spread by animals and water. This weed has become widely established in central Victoria, western NSW and south-eastern and eastern SA. It particularly likes to grow on granite outcrops, but also infests woodlands and pastures.
The Tarrangower Cactus Control Group (TCCG) has been battling the prickly problem that is Wheel Cactus (Opuntia robusta) for many years now, ensuring the community and landowners are always on the look out for Wheel Cactus invading the landscape. Three excellent videos from TCCG (see below) have helped the community to easily access the library of information on Wheel Cactus and how to best remove this troublesome plant from the landscape, no matter the level of knowledge.
The three videos cover a variety of topics, such as what Wheel Cactus is and why it is an issue, who the Cactus Warriors are, management options for treating Wheel Cactus and some great footage of the warriors at work. We think the videos are an excellent resource for anyone wanting to know more about managing Wheel Cactus and how devastating it can be on agriculture and the environment alike.
TCCG consists of Landcare volunteers dedicated to the eradication of Wheel Cactus. The group holds friendly and informal community field days to inform and demonstrate control techniques, on the last Sunday of the month from May to October. These field days always end with a free BBQ lunch, cuppa and cake and the opportunity to chat, exchange ideas and make contacts. It is a great opportunity to spend a rewarding morning outdoors, meeting neighbours and others who are concerned about preserving our unique environment. Everyone is welcome, no previous experience is required and all equipment is supplied.
Please contact the TCCG via their website at www.cactuswarriors.org if you have any queries.  Click on the videos below to watch each video and learn about the incredible success the TCCG have achieved and how to remove plants correctly.
Posted on 9 July, 2019 by Ivan
The Honorable State Government member for West Bendigo, Maree Edwards MP, launched our wonderful 'Key Biodiversity Areas: Nature Hotspots' sign at the Castlemaine Market Building Information Center, Castlemaine, Victoria, on Tuesday 25 June 2019, in front of a solid crowd of dedicated volunteers and members.
The sign aims to educate the community and visitors to the region about the internationally significant nature hotspots to the west of Castlemaine, which are part of the greater Box-Ironbark Key Biodiversity Area (KBA). The sign has some stunning pictures of five bird species that you might see in the KBA area and aims to encourage people to explore and connect with these important landscapes, which include the forests and woodlands around: 
We would like to thank all of those who have been involved in development of information, design, and proofing of the sign, there are so many of you and your help has made such a beautiful and lasting sign possible.
For further information about Key Biodiversity Areas, please click here. If you would like to be involved in the Easter Health check for these landscapes, please contact the KBA coordinator at Birdlife australia: kba@birdlife.org.au
Posted on 2 July, 2019 by Ivan
Have you tried the FrogID app? FrogID is Australia's first national citizen science frog identification initiative – a project led by the Australian Museum in partnership with Australia's leading natural history museums and IBM. You can use the App to create a profile, record frog calls and match your calls to the frog calls on the app, then upload your records to the Australian Museum frog experts for species verification.
The findings from the first 12 months of the FrogID App are in!
In just one year, FrogID has generated the equivalent of 13% of all frog records collected in Australia over the last 240 years. The submitted recordings have resulted in over 66,000 validated calls and detected 175 of Australia's 240 known native frogs.
The data has provided information about:
Impacts of climate change and pollution on Australia's frogs including the first evidence of the decline in Sydney of the Australian Green Tree Frog.
Spread of the invasive Cane Toad.
Breeding populations of 28 globally threatened and 13 nationally threatened frog species.
'Due to FrogID and the thousands of people recording the calls of frogs across Sydney, we have enough data for the first compelling evidence of the disappearance of the Green Tree Frog from most of Sydney,' Dr Jodi Rowley (Australian Museum Curator of Amphibian and Reptile Conservation Biology) said.
Evidence of the decline of the iconic Australian Green Tree Frog (Litoria caerulea) in Sydney is integral to conservation efforts.  They can now provide up to date information to land managers to better understand where they are located, and ensure the habitat that supports them is protected.
Another surprising result from the first year of the project has been the number of records of native frog species detected calling from well outside their known range, including the Eastern Dwarf Tree Frog (Litoria fallax) found up to 400 km from the known edge of the native range near the NSW -Victoria border. (To learn more about hitchhiking frogs – click here.)
This is all thanks to the efforts of the amazing citizen scientists driving this data collection. Check out the top frogger, Matt from the Northern Territory, featured recently in the media – click here.
To download the FrogID App – click here.
Happy frogging!
Posted on 6 June, 2019 by Jess
BirdLife Castlemaine District and Connecting Country are partnering to bring you a new workshop on how to use the Birdata app to record bird surveys on your smartphone (both Android and iPhone). No experience is required. We'll provide training on how to do a 20 minute – 2 hectare search using your phone.
Surveys can also be recorded on paper if necessary. However, if you have a smartphone, using the Birdata app is quick and easy, and saves time on data entry.
Here's what we'll cover at the workshop:
What is a 2 ha area count and how do you do it.
How to use Birdata and record a survey.
Substantial afternoon tea!
Putting theory into practice by completing a survey in the field.

When: Sunday 23 June 2019 at 1:00 pm
Where: Tea Room, Castlemaine Botanical Gardens, Downes Rd, Castlemaine VIC
Registration: Please email castlemaine@birdlife.org.au to register. That way we can provide plenty of afternoon tea and Birdata trainers.
Posted on 30 May, 2019 by Ivan
BirdLife Australia's Woodland Birds team is seeking the support of volunteer birdwatchers for its Birds on Farms program. This citizen-science monitoring program aims to learn more about how birds are using a variety of habitats on private rural properties by conducting quarterly 20 minute – 2 hectare surveys.
There are currently two properties within the area encompassed by BirdLife Castlemaine where survey plots have been established on landholders' properties, but do not have an assigned birdwatcher (or birdwatchers). One is at Maldon with three survey plots, and another near Guildford with four survey plots.
If you and/or a small group of birdwatching friends are potentially interested in becoming the volunteer birdwatcher for one or both of these properties, please contact Caroline Wilson and Chris Timewell (woodlandbirds@birdlife.org.au) at BirdLife Australia to discuss this opportunity.
Background information about the Birds on Farms program is available on the BirdLife Australia website – click here
Posted on 16 April, 2019 by Frances
Bendigo Field Naturalists Club and Snowgum Press Films are presenting a special screening of the documentary 'The Desperate Plight of the Orange-bellied Parrot', a film by David Neilson on Wednesday 8 May 2019 in Bendigo, Victoria
The Orange-bellied Parrot migrates between the Australian mainland and Tasmania, spending summer breeding in Tasmania and winter in coastal Victoria and South Australia. It is one of Australia's most threatened species, with less than 50 parrots thought to exist in the wild. Like many of our local birds, threats include habitat loss and modification, predation by cats and foxes and weeds, as well as collisions with structures, and inbreeding.
This is a fundraising event for the critically endangered Orange-bellied Parrot. All funds raised go to support conservation efforts. Tickets are $15 (children free). Numbers are limited so register now to secure a seat. A special 'meet the film-maker' session and nature photography discussion is available prior to the screening ($20).
For further information please see the flyer – click here.
To book your seat contact Bendigo Field Naturalists Club via their website (http://www.bendigofieldnaturalists.asn.au) or email (info@bendigofieldnaturalsts.asn.au).
To find out what is being done to preserve the habitat and remaining populations of the Orange-bellied Parrot, please visit the Birdlife Australia website by clicking here
Posted on 9 April, 2019 by Ivan
Landcare groups have worked hard to help restore and revegetate many of our urban waterways within the Shire of Mount Alexander of central Victoria. The Cooperative Research Centre for Water Sensitive Cities has just released a new product designed to walk practitioners through the nine components of repairing or designing a living stream site on a flowing urban waterway, and to support them in working out which actions to take.
The 13 factsheets about improving the ecological function of urban waterways cover nine different ecological components of flowing waterways: flow, geomorphology, riparian, connectivity (longitudinal, lateral, vertical), water quality (nutrients, physico-chemistry including toxicants) and biota. Most components have two factsheets—one for what to do at the site scale and the other for what to do at the catchment scale—so practitioners have more context and can work at both spatial scales.
For more information or to download the factsheets, please click here
Posted on 7 March, 2019 by Ivan
Connecting Country is excited to host an interactive workshop in conjunction with the Centre for eResearch and Digital Innovation on Friday 22 of March in Castlemaine.
This interactive workshop is part of Connecting Country's Habitat Health Check project (click here for more information), funded by the Helen Macpherson Smith Trust over the next two years. This project aims to review our long-term monitoring programs, to shift to a monitoring model that empowers our community to conduct robust biodiversity monitoring, and, importantly, to ensure that the data we collect is being shared and used appropriately.
To meet this third goal, we are working with the Centre for eResearch and Digital Innovation (CeRDI) at Federation University Australia. CeRDI has developed many award-winning web-based spatial information and knowledge portals that provide public access to data sets that are often hidden from view. The team at CeRDI have great resources that are relevant to us at Connecting Country and are well worth checking out.
The interactive workshop will cover two important databases in detail:
State Wide Integrated Flora and Fauna Teams (SWIFFT) – a knowledge sharing network for biodiversity conservation and threatened species
Visualising Victoria's Biodiversity (VVB) – a web portal containing spatial information on environmental values, conservation activities and research
At the workshop we will:
Showcase projects run by community groups and researchers
Participate in an interactive session about sharing and accessing biodiversity data
Explore ways to improve knowledge sharing through online platforms
Network with other biodiversity organisations and community groups in your region
Please come and join us at the lovely Garden Room within the grounds of Buda Historic Home and Garden for this free workshop. Workshop numbers are limited, so please book.
Workshop: Online tools for accessing and sharing biodiversity information
When: Friday 22 March 2019 from 9.30 am to 2.30 pm
Where: Buda Garden Room, 42 Hunter St, Castlemaine VIC
Bookings: to book online please click here
For further details please contact Ivan Carter at Connecting Country on 03 5472 1594 or email ivan@connectingcountry.org.au
Posted on 24 January, 2019 by Tanya Loos
The weather was kind to us at our snake workshop on Saturday 19 January 2019 – sunny but not too hot. Over fifty participants were able to give the presenter and his reptiles their full attention. The event was run by Connecting Country in partnership with Muckleford Catchment Landcare, and supported by funding from North Central Catchment Management Authority.
Stu from Snakehandler gave us a fascinating full hour presentation, including plenty of myth busting, introduction to different snake species and their ecology, and hints on snake safety and snake bite first aid. We all learned so much from Stu! Stu has many years of experience and a great love for snakes and other reptiles. He helped us understand the importance of snakes to our local ecosystems, why snakes behave the way they do, and how we can all live safely with snakes. Frances took notes during Stu's talk, which are well worth a read here.
After the presentation, Stu introduced us to some real live reptiles! Those who wished were able to hold a very sweet Eastern Bearded Dragon, a Common Blue-tongue Lizard and a large Murray Darling Carpet Python, and also see some local venomous snakes housed in special terrariums. All species were native to central or northern Victoria. All the animals used for the presentations are selected for their temperament and ability to handle stress, and will be rested for weeks before being used again, as Stu and his team have plenty of reptiles.
Many thanks to Stu from Snakehandler, Jacqui for organising this wonderful event, and to all those that assisted with set-up and pack-up. Special thanks to the Mellick-Cooper family who hosted the event on their beautiful property, and to Muckleford Catchment Landcare for the delicious morning tea. We hope all participants enjoyed the workshop as much as we did!
Please enjoy this gallery of photos from the day – scroll through by hovering your mouse on the right of the picture.
Posted on 29 November, 2018 by Tanya Loos
On Sunday 25 November, 2018 attendees at our Kalimna Park Butterfly Count were delighted to observe two Eltham Copper Butterflies flying and then perching on native shrubs such as Sweet Bursaria (Bursaria spinosa) and Rough Wattle (Acacia aspera).
The count was led by two Eltham Copper Butterfly enthusiasts, ecologists Elaine Bayes and Karl Just. Elaine and Karl have a long association with this tiny threatened butterfly, and the afternoon involved a very informative discussion about the ecology, life history, and threats facing the butterflies. We also went out butterfly-spotting of course!
The Kalimna Park population of Eltham Copper Butterfly (ECB) is quite possibly the largest left in the state, but it is also not as well studied as other populations. Elaine and Karl are very keen to find volunteers who are willing to scour the park for adult ECBs.
The next butterfly count will be held on Saturday 12 January, 2019 between 1pm and 3 pm at Kalimna Park. Connecting Country will send out a blog post with all the details in early 2019. A subsequent count will be held on Saturday 16 February  – so pop those dates in your new diary 🙂
We were all fascinated by the complex life history of the ECB and this butterfly's relationship with the Sweet Bursaria (Bursaria spinosa) and a species of ant. Elaine wrote a great article about this interrelationship in 2016 for one of our early Nature News – click here.
The Eltham Copper Butterfly has rightly received a lot of attention in our region over the years -Connecting Country is proud to take part in the story and work with the people who care for the butterfly in the coming months.
Please enjoy this gallery of photos from the Butterfly Count. Click on the arrow on the right to move through the pictures.
Posted on 15 November, 2018 by Tanya Loos
On Saturday 10 November 2018, some 60 people gathered at Campbells Creek Community Centre to enjoy an afternoon of science,  fun and delicious food. The event combined Connecting Country's Annual General Meeting for the 2017-2018 year with a threatened species forum to launch our new 'Habitat health check' project. We celebrated the findings and achievements of Connecting Country's long term monitoring programs with presentations by two very special scientists who directly support these programs: Professor Andrew Bennett and PhD Candidate Jess Lawton.
We would like to thank the Helen Macpherson Smith Trust for generously supporting 'Habitat health check', and to our presenters and all the committee members, staff and volunteers who assisted with the event.
Our AGM was short and sweet, and all but one of our committee members have re-elected for another year! The hard-working Connecting Country committee must be thanked for their considerable contribution to our organisation.
Elected members of Connecting Country's 2018-19 committee of management are:
President:                  Brendan Sydes
Vice President:         Saide Gray
Treasurer:                  Max Kay
Secretary:                  Marie Jones
Ordinary member:    Karoline Klein
Ordinary member:    Malcolm Trainor
Ordinary member:    Christine Brooke
For minutes from the AGM and forum, please click here. A more detailed review of Andrew and Jess' presentations will be shared next week.
If you would like a copy of our Annual Report for 2017-18, click here. Thanks to everyone who contributed to the report (especially Jacqui for making it look beautiful).
Please enjoy this gallery of some of the smiling faces at our AGM and Threatened Species Forum. (Photos by Tanya Loos and Frances Howe.)
Posted on 7 November, 2018 by Tanya Loos
Join ecologists Elaine Bayes and Karl Just on a walk searching for the endangered Eltham Copper Butterfly, hosted by Friends of Kalimna Park.
The Eltham Copper Butterfly was once distributed around Victoria. Now the largest surviving population of this little butterfly lives in Castlemaine – it could very well be called the Castlemaine Copper Butterfly!
Karl and Elaine will lead us on a guided walk through the bushland at Kalimna Park on the edge of Castlemaine, and show us how to look for the adult butterflies. Friends of Kalimna Park members will explain how to help the habitat of these beautiful insects.
Friends of Kalimna Park's Annual General Meeting will be at 12.00 – 12.30 pm, followed by a light lunch, with the butterfly walk and talk starting at 1.00 pm.
When: Sunday 25 November at 12.00 noon – 3.00 pm
Where: Kalimna Point Rotunda, Kalimna Road, Castlemaine VIC
RSVP: Numbers are limited – so book now! Contact Tanya Loos, (Monitoring and Engagement Coordinator at Connecting Country) by email at tanya@connectingcountry.org.au or call our office on (03) 5472 1594.
All welcome! Please wear shoes and clothing appropriate for walking outside.
Elaine writes:
The reason I am fascinated with Eltham Coppers is because like many of the Blue butterfly family they have a weird and wonderful and totally dependent (obligate) three-way relationship with Notoncus ant species and Sweet Bursaria plants (Bursaria spinosa).  Notoncus ants are nocturnal ants which live underground including at the base of Sweet Bursaria plants. Eltham Coppers lay their eggs at the base of a Sweet Bursaria plant and once hatched the larvae is guided into the ant nest and protected. The larvae overwinters in the nest and ants lead them out to graze at night exclusively on the leaves of Sweet Bursaria. In return, the ants feed on sugars which are excreted by the larvae's honeydew gland.
Posted on 25 October, 2018 by Tanya Loos
STOP PRESS! UPDATE ON OUR THREATENED SPECIES FORUM AND AGM!
In a slight variation to Connecting Country's program for our event on 10 November 2018, our esteemed guest speaker Professor Andrew Bennett has now confirmed he will speak on:
'Can revegetation reverse the decline of woodland birds in rural landscapes?'
Andrew will talk about a study of revegetation and birds in south-western Victoria (Hamilton area) that has results that may be relevant to our local revegetation work.
We're very excited to hear this talk, as Connecting Country's long-term bird monitoring results suggest that the answer is YES. Recent statistical analysis of our data by Dr Kerryn Herman at BirdLife Australia found that restoration sites support a high diversity of bird species (second only to gully or fertile sites). Furthermore, these restoration sites have the highest number of individual birds recorded out of all of our sites.
We'll also hear PhD candidate Jess Lawton present her recent research on the Brush-tailed Phascogale. The updated program flier can be found here.

Join our nature share
Following the popularity of our nature quiz earlier this year, we've planned another fun activity. This time, we ask everyone to bring along a small item of nature that they love or inspires them. It could be an object such as a feather, or an animal-themed shirt, or an artwork of some kind. Each table then decides on which item to share with the wider group. It's a bit of fun – participation is encouraged rather than mandatory!
AGM formalities
Our annual general meeting (AGM) and threatened species forum will be held at Campbells Creek Community Centre (45 Elizabeth St, Campbells Creek VIC) from 4.00 pm – 7.00 pm, with AGM formalities taking place from 4.00 – 4.30 pm. For a copy of our agenda click here.
If you are a Connecting Country member, you are:
Entitled to vote on any and all relevant agenda items. Proxy forms are available if you are unable to attend the AGM, but still wish to vote. These must be received at least 24 hours before the AGM is held.
Able to nominate to join the Connecting Country committee. If you are interested in applying to join the committee, you are encouraged to contact the current president – Brendan Sydes – to talk about what is involved in being on the committee and the opportunities available (email: president@connectingcountry.org.au). A copy of the committee nomination form may be downloaded here.
Please contact Margaret (margaret@connectingcountry.org.au) if you are unsure if you are a member, if you'd like a proxy form, or if you'd like a copy of the 2017 AGM minutes or 2017-18 financial statements to read before the meeting.
RSVP
To ensure sufficient catering and seating, please RSVP by email to margaret@connectingcountry.org.au or call the Connecting Country team on 5472 1594.
All are welcome! Membership forms will be available if you're not already a member of Connecting Country but would like to join.