Posted on 22 August, 2019 by Ivan
Connecting Country's activities – such as protection of remnant vegetation, revegetation, establishing wildlife corridors, control of pest plants and animals, and biodiversity monitoring – all contribute to climate change adaptation, mitigation and a better understanding of its effects. However, there is more that can be done locally and at larger scales. By working with people in our community to address the direct and indirect impacts of climate change, we hope to create a robust and healthy local landscape that remains livable for future generations of humans and other species.
Ways in which Victorian communities are responding to climate change will be the focus of a new parliamentary inquiry, with the Victorian Legislative Assembly's Environment and Planning Committee inviting public submissions.
A changing climate is affecting biodiversity across the planet. As well as putting increasing pressure on individual species, it will exacerbate the effects of threatening processes in natural areas, such as habitat loss and fragmentation, drought, introduced species, erosion, bushfire and pollution.
The Senate Committee wants to hear from community members and organisations on actions they are taking to reduce the severity of climate change and adapt to its current and future impacts. The inquiry will consider ways in which the government can best support communities in their efforts. Written contributions are welcome by 26 August 2019 and the committee will be conducting public hearings across Victoria to speak with people on the issues they raise.
Details on how to make a submission are available at www.parliament.vic.gov.au/ClimateChangeInquiry
Posted on 22 August, 2019 by Asha
The theme of our July 2019 Landcare Link-up was volunteer engagement, with a training session on attracting, recruiting, and retaining volunteers. A couple of representatives from each group in the Mount Alexander Region Landcare Network were invited to attend. As well as the training, Landcare Link-ups are always a great chance to meet people from other groups, have a chat, and learn from and support each other.
A small but engaged group of about 13 Landcare volunteers came together for the Link-up. Jenny from Non-profit Training got everyone thinking about the challenges involved in engaging volunteers with a Landcare group. We discussed volunteer burnout, bringing in new people, removing barriers and being inclusive, the different volunteer roles within groups, and much more. Attendees were able to share lessons and ideas with each other, bringing a range of perspectives from their different groups.
Brian from Taradale Landcare, a recently reinvigorated group, shared four 'pillars of success' for engaging volunteers with their group:
Visibility and accessibility – easy to contact and responsive to communications.
Motivation – doing work that people are interested in.
Organisation – the value of planning and good governance.
Sociability – making new people feel welcome, good food and drink!
Thank you to everyone who helped make the Link-up an enjoyable and valuable event. Our biannual Landcare Link-ups are organised by Connecting Country with funding through the Victorian Landcare Facilitator Program.
Posted on 22 August, 2019 by Ivan
The Tarrangower Cactus Control Group and Parks Victoria will hold their next Community Field Day on Sunday 25 August 2019, with the group keen to get some new Cactus Warriors on board.
Come and join the Cactus Warriors and Parks Victoria for a morning in the fresh air and learn how best to destroy Wheel Cactus. The location is at the reservoir end of Whitlocks Road, near Maldon VIC. To get there, take South Parkins Reef Road out of Maldon and follow it to the end. The route will be well signposted. The morning's activities finish with a delicious BBQ lunch and friendly chat. The event is family friendly but children must be accompanied by a parent at all times.
For more information on the infamous Cactus Warriors – click here.
Community Field Day
When: 10.30 am to 12.30 pm on Sunday 25 August 2019
Where: End of Whitlocks Road, Tarrangower VIC (near sheep yards), via South Parkin's Reef Road and follow the signs.
Come along kill some cactus and then enjoy a free sausage sizzle
Check out the poster below for a location map or visit www.cactuswarriors.org and subscribe for a monthly field day reminder.
Posted on 22 August, 2019 by Ivan
A weedy wattle? That's bloomin crazy!
Cootamundra wattle (Acacia baileyana) is out in full bloom at the moment, providing a bright and timely reminder that winter is nearing its end and Spring is on its way. Although the Cootamundra wattle is native to New South Wales, it has become an invasive plant in many regions across the country, including the Mount Alexander Shire. You will find this species with bright yellow blossom in our local bushlands right now, and believe it or not, it is still used occasionally in new planting in our region.
The Cootamundra wattle is a widely cultivated species that invades drier areas where annual rainfall exceeds 400 mm. It grows on a range of soil types, although not permanently sodden or waterlogged soils. Cootamundra wattle readily invades our native heathland and heathy woodland, lowland grassland and grassy woodland, dry sclerophyll forest and woodland, and riparian vegetation.
It is a shrub or tree that grows to 10 m high with a spreading crown and smooth grey or brown bark on the main stem and most branches. The branchlets and younger branches have prominent vertical ridges and are covered with a whitish, waxy bloom. They sometimes also bear numerous short soft white hairs. The leaves are bipinnate (finely divided into small leaflets giving the leaves a 'feathery' or 'fern-like' appearance) and silvery grey-green or blue-green with a whitish bloom. Compared to many other bipinnate-leaved wattles, the leaves of Cootamundra Wattle are relatively short and usually have only 2-4 (sometimes up to 6) pairs of leaflets. The ball-shaped, golden yellow flower heads are arranged in 'sprays' (racemes) up to about 10 cm long that clearly exceed the leaves. These are followed by more-or-less straight-sided, purplish-brown to black seed-pods, 30-100 mm long and 8-15 mm wide, that sometimes have a white waxy bloom. The hard, black seeds are about 5 mm long and 3 mm wide.
Across our region, Cootamundra Wattle was extensively planted in gardens and shelter-belts in the prior decades, before we realised it was a problem. Unfortunately it is still widely available in nurseries, garden centres, fetes and markets. The hard, long-lived seeds are spread by birds and ants, on machinery and in garden waste.
Connecting Country strongly recommend that people do not plant this species, as it can quickly spread and invade healthy ecosystems and nature reserves. Instead consider one of our local indigenous Acacia species, which can be found by clicking here.
The North Central Catchment Management Authority has an excellent brochure on how to identify this species to similar 'look-a-like' species, click here bipinnate wattle identification.
Posted on 15 August, 2019 by Ivan
Connecting Country is holding a Special General Meeting and Acacia workshop, The Wonderful World of Wattles, at 2.00 pm on Saturday 24 August 2019 at Campbells Creek Community Centre. Come along for brief meeting formalities and then learn all about identifying our amazing local Acacias with special guest and local legend, Ian Higgins and Rod Orr!
We would like to remind members of Connecting Country to please fill out a Proxy Form if you cannot attend the special general meeting. This will help us obtain sufficient member numbers to conduct the formalities of the special meeting and fulfill our legal obligations in changing auditors. 
To see our official notice and fill out the attached proxy form for the meeting – click here
Please return your completed proxy form by email to info@connectingcountry.org.au or or post to the Connecting Country office.
For more information on the interactive Acacia workshop, please see our flyer below. To download a copy of the flyer – click here
To RSVP please visit TryBooking – click here
This Acacia workshop is made possible by generous funding support from the North Central Catchment Management Authority and our wonderful volunteers Ian Higgins and Rod Orr.
Posted on 15 August, 2019 by Asha
Over twenty young people aged 16-35 shared an exciting adventure last weekend at the Mount Alexander Region Intrepid Landcare Retreat.
'The weather delivered everything from hail, wind, snow, freezing temperatures, rainbows and sunshine!  Between outdoor adventures, helping with some direct seeding for habitat, learning much about the local area and leadership, and thawing out, the group threw together some pretty awesome project ideas to bring to this region,' said Megan Rowlatt from Intrepid Landcare Australia.
'The group met the legends behind the Cactus Warriors who have been battling the insidious Wheel Cactus for many years and bringing landscapes back to good health. We met awesome Landcare volunteers looking after and restoring bushland which has been highly disturbed due to a long history of gold mining. We met Pauline from the Dja Dja Wurrung Clans Aboriginal Corporation who shared her beautiful culture and local knowledge with us. And we met an amazing group of young people passionate about the environment.'
If you are interested in getting involved with an Intrepid Landcare group in the Mount Alexander region, contact Asha Bannon at asha@connectingcountry.org.au, or join the new 'Intrepid Landcare Mount Alexander' Facebook group.
To make these opportunities accessible to as many young people as possible, successful applicants were generously supported by North Central Catchment Management Authority and Connecting Country through funding from the Victorian Landcare Program. This support covered all catering, accommodation and a carefully packaged leadership development program tailored to meet the needs of young people passionate about the environment.
Posted on 14 August, 2019 by Ivan
Fresh off the press! We have received Museum Victoria's published video summary of the fascinating 'Listening to Nature Citizen Science Video', which has been mapping out the sounds of our local bushland. Scientific wildlife surveys are essential for reporting and managing biodiversity, and researchers now listen as well as look.
During 2018, a group of volunteers began a project to monitor nocturnal birds in the Mount Alexander region of central Victoria using song meter recorders. This 'Communities Listening for Nature' project was run by Victoria National Parks Association (VNPA) in partnership with Museums Victoria and Connecting Country.
The Communities Listening to Nature project uses automated sound recorders to monitor birds in their natural environments. The song meters recorded bird calls at many sites over long time periods. Partnering with local groups, the VNPA  installed recorders at several locations, including Mount Worth State Park and surrounding district, Bunyip State Park, Mount Alexander region and the Wombat State Forest.
Each location has its own study design, which has been developed with input from local groups and land managers, and scientists from Museums Victoria. The recorded nature calls will help them learn more about Victoria's nature. The recordings are also added to the public library of Victorian bird sounds managed by Museums Victoria and available to everyone from their online collections. Communities The project was supported with funding from the Helen Macpherson Smith Trust.
For more information on the Listening to Nature Program, please click here.
The video contains interviews with the volunteers and participants of the project and gives a great summary of why the project is vital to our future work. The Listening to Nature project uses spectrograms,  a visual representation of an audio signal, with the pitch or frequency displayed vertically, and the time horizontally. High frequencies (like those made by bats) are near the top of the image, while lower frequencies are near the bottom of the image. To learn more about some of the wildlife sounds recorded during the project in our region, please click here.
The filmmakers acknowledge the elders of the Dja Dja Wurrung community and their forebears as the traditional owners of Country in this region.
Posted on 13 August, 2019 by Jess
Join the Upper Campaspe Landcare Network and Macedon Ranges Shire Council for a discussion about the threatened Greater Glider with mammal experts Peter Menkhorst and Jemma Cripps. Hear about the findings of a recent citizen science project to search for Greater Gliders, Brush-tailed Phascogales and Powerful Owls in the local region. An interactive session with audience participation will follow. Afternoon tea is included.
When: 3.00 to 4.30 pm on Saturday 31 August 2019
Where: Newham Mechanics Institute, 1292 Rochford Road, Newham VIC 3442
To book: Bookings required – click here
For more information: Contact Robin (Landcare) on 0438 271 108
Posted on 8 August, 2019 by Ivan
Connecting Country is now a proud sponsor of the best little radio station in the nation, 94.9 Maine FM, and has a regular radio segment. Once a month we feature on the popular 'Here Say' show, hosted by the excellent Suzanne Donisthorpe. So far we've spoken about Connecting Country's projects, achievements, bird monitoring and re-vegetation work.
Hear Say is a weekly catch up with some of the great things going on, in and around Castlemaine in central Victoria. It features local news, fresh from the papers, interviews with the movers and shakers about town, and a call out for community groups who have things to say and they want people to hear.
Each month we have a special guest joining with a Connecting Country staff member to cover a topic of interest to the broader community. Last month we heard from Jess Lawton (Connecting Country) and Jane Rusden (Birdlife Castlemaine) talking about the re-invention of Connecting Country's long-term bird monitoring program into a community-driven program driven by active citizen scientists. It was a fascinating chat and well-received by listeners.
This month we'll hear from Lee Mead from the Tarrangower Cactus Control Group. This dedicated group consists of Landcare volunteers dedicated to the eradication of Wheel Cactus (Opuntia robusta). Tarrangower Cactus Control Group, in conjunction with Parks Victoria, holds friendly and informal Wheel Cactus Control community field days to inform and demonstrate control techniques, on the last Sunday of the month from May to October. These field days always end with a free BBQ lunch, cuppa and cake, and the opportunity to chat, exchange ideas and make contacts.
Please tune into 94.9 Maine FM at 9.30 am on Tuesday 13 August 2019 to hear Lee Mead and Ivan Carter (Connecting Country) discuss the world of invasive cactus species on the radio and what can be done about this prickly problem. You can listen to Maine FM on your radio on 94.9 FM or via the internet by clicking here.
If you have any environmental topics or conversation you'd like Connecting Country to cover, please let us know by emailing us at: info@connectingcountry.org.au
Posted on 8 August, 2019 by Jacqui
To celebrate International Cat Day, held on 8 August each year, and the unique wildlife of the Mount Alexander region, we are pleased to share a initiative called Safe Cat, Safe Wildlife from Melbourne Zoo and the RSPCA.
As the name suggests, Safe Cat, Safe Wildlife raises awareness of the threats to cats and wildlife when cats are able to roam freely. It aims to to build a community of cat owners who have the tools to provide their cat with the longest and happiest lives possible by keeping them safe and enriched at home. It helps cat owners with all aspects of cat care through an informative blog with hacks designed to keep cats entertained, healthy and happy indoors.
You can find out more and sign up to receive their newsletter on the Safe Cat, Safe Wildlife website – click here.
Birdlife and Wildlife Victoria are official campaign collaborators, and many local councils, veterinary clinics and wildlife networks have jumped on board to support the campaign. We note our local Castlemaine Veterinary Clinic has signed up as a supporter. To see the full list of supporters click here, scrolling to the bottom of the page.
At Connecting Country's recent community bird monitoring workshop, participants identified the impact of cats on local birds as a priority for the community. Some local Landcare groups have also been working on managing issues of cats and local wildlife.
Posted on 8 August, 2019 by Frances
Connecting Country and Newstead Landcare Group are delighted to host a presentation by well-known author and biological scientist Tim Low.
Tim will speak on his book 'The New Nature'. Although controversial when first published in 2002, the book was recently updated and its themes are now more relevant than ever. Following Tim's presentation there will be an opportunity for questions and answers, then a cuppa and cake.
Tim Low talk on 'The New Nature'
When: 7.30 pm on Friday 6 September 2019
Where: Newstead Community Centre, Lyons St (Pyrenees Hwy) Newstead, VIC
All welcome. A gold coin donation will help us cover costs. Bookings not required. 
For our event flyer – click here
This event is supported by funding from North Central Catchment Management Authority and Friends of the Box-Ironbark Forests.
Tim Low
Tim Low is a biologist and best-selling author of seven books about nature and conservation. 'Where Song Began' won several prizes, including the Australian Book Industry Award for best general non-fiction. It was praised in the New York Review of Books and recommended by Scientific American. 'The New Nature' was praised by Time magazine and listed by Who magazine as one of the books of the year. 'Feral Future' inspired the formation of a conservation group, the Invasive Species Council. Tim's articles have appeared in Australian Geographic, The Weekend Australian Magazine, The Guardian and many other places. He works partly as an environmental consultant, and has a lizard named after him. He recently returned from a visit to Manchuria as a guest of the China Writer's Association.
'The New Nature'

The conservation movement talks about declining species, as it should, but this leaves many people unaware that some animals and plants are doing better today than ever before, because they have found ways to exploit us. Australia has winners as well as losers. Animals don't have any concept of 'natural' or 'unnatural' so they don't automatically recoil from cities and farms. Sometimes they can do better in cities than in forests – Australian cities and towns are gaining animals over time. Melbourne, Sydney and Brisbane now have peregrine falcons nesting on skyscrapers. Some urbanising species, notably corellas and flying foxes, are becoming sources of conflicts that need to be carefully considered. The notion of wilderness can get in the way of understanding all this because it implies that nature is authentic only when there is no human influence. But animals and plants have been benefiting from humans ever since Aboriginal people began burning the 'wilderness' to manage it.
You can read more about Tim Low and view his Blog and website – click here
Posted on 5 August, 2019 by Asha
Join Muckleford Catchment Landcare to explore a property that demonstrates techniques to transition a landscape via planting and water management. You will see:
How dams can be functional water sources, habitats and aesthetic features that sit within the landscape.
How the efficacy of different planting techniques is dependent on the landscape.
How direct seeding of native seed can be used at a larger scale to kick start the transition.
When: 10.00 am to 11.30 am, Saturday 24 August 2019
Where: 88 Symes Rd, Muckleford South, VIC 3462
RSVP: Please RSVP to Beth Mellick on 0431 219 980 or email mucklefordlandcare@gmail.com
Posted on 31 July, 2019 by Asha
BirdLife Castlemaine District is going searching for Hooded Robins!
Hooded Robins are one of Connecting Country's special 'Feathered Five'. They're known to frequent a certain spot in Shelbourne. Locals Jane Mitchell, Kerri Peacoulakis and Kerrie Jennings will lead a bird walk with Asha Bannon.
Posted on 31 July, 2019 by Asha
Friends of Campbells Creek Landcare have had an active, successful year, thanks to the continued hard work of their committee members and the wider community. Volunteers from the group have put in more than 2,000 hours of on-ground work in the last year. The environment along Campbells Creek shows the benefit.
Friends of Campbells Creek Landcare believes volunteer groups (including theirs) need the infusion of new ideas and new energy to continue to produce results. CLICK HERE to read their document outlining their committee member roles, and consider whether any roles suit your interests and abilities.  Feel free to contact their Secretary, Thea King (tking@internode.on.net), or the current role-holder if you want to know more.  If you would like to contribute, but are unsure of the commitment involved, please consider volunteering to support the elected committee member as an assistant.  All positions are re-elected annually.
Annual General Meeting – Friends of Campbells Creek Landcare
When:         Wednesday 7 August 2019.  Meal from 6.00 pm.  Meeting from 7.30 pm
Where:        Klua Sathorn Thai restaurant, 32 Johnstone Street, Castlemaine VIC
The meeting will be short, made up of two important agenda items:
Reports from the past year.
Election of the new office-bearers.
Posted on 31 July, 2019 by Asha
If you love birds and our natural heritage, hopefully you've already discovered the Natural Newstead blog. The blog is a wealth of knowledge and expert observations of flora, fauna and landscape in central Victoria. With nearly 2,000 subscribers, it contains some of the best nature photography you will see anywhere. It is run by Newstead resident and local ecological identity Geoff Park, with contributions from other knowledgeable locals. Geoff Park has worked in various roles with the North Central Catchment Management Authority and in the private sector, and is very passionate about biodiversity conservation and on-ground biodiversity outcomes.
If you're not familiar the blog, check it out here: https://geoffpark.wordpress.com
We particularly enjoyed Geoff's recent post about woodland birds enjoying the wetter conditions this winter. To read this post on the Natural Newstead website, click here, or continue reading below.
A proper soaking and then woodland birds
Posted on 1 July 2019 by Geoff Park
Posted on 31 July, 2019 by Frances
In late 2018, the Research Centre for Future Landscapes at La Trobe University held an excellent symposium on 'Future Landscapes for People and Nature'. Speakers included our very own Brendan Sydes (Connecting Country President).
It has taken a while, but videos of the presentations are now available on the university website – click here
Thanks to La Trobe University, all the speakers and Jim Radford (Principal Research Fellow at the Research Centre for Future) for providing this valuable resource.
Posted on 25 July, 2019 by Ivan
Love it, or hate it, Facebook and the social media titans have changed the way many of us interact with the world and our community. Connecting Country has moved with the times and has an excellent website and a strong online presence through Facebook. It allows us to tell our story, and yours, through image, videos and words, as well as getting feedback from you!
We are sitting very close to 1,000 followers on Facebook, so its time to celebrate the milestone with a give-away prize for our 1,000th Facebook follower! We would like to offer a choice of three local books, to connect and educate our community with our natural heritage. The three books are listed below, all published by our local champions at Friends of the Box-Ironbark Forests (FOBIF).
Wattles of the Mount Alexander Region
by Bernard Slattery, Ern Perkins and Bronwyn Silver
This 112 page guide, Wattles of the Mount Alexander Region, helps the beginner to make a start. In plain language, and generously illustrated, it presents 21 species that flourish in the Mount Alexander region of central Victoria. A general introduction explains different features of wattles, helping in identification and appreciation of these tenacious and beautiful plants. The book is published by FOBIF in association with Castlemaine Field Naturalists Club and Connecting Country.

Eucalypts of the Mount Alexander Region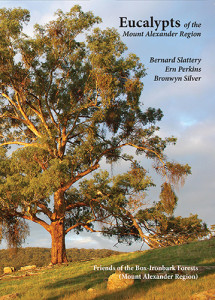 by Bernard Slattery, Ern Perkins and Bronwyn Silver
This 90 page guide aims to help the beginner train the eye to see the differences between eucalypts, and to appreciate how spectacular they are. It presents common species of the Mount Alexander Region, generously illustrated and clearly described in plain language. Though firmly based on forests and reserves around the town of Castlemaine, it describes species common to the whole Box-Ironbark region, and would be useful to any enthusiast in that region, from Ararat to Chiltern. Sections on major species include drawings of buds, fruit, juvenile leaves and adult leaves by Leon Costermans. The book is a community project of FOBIF with a generous grant from the Worrowing Fund through the Norman Wettenhall Foundation. Castlemaine Field Naturalists' Club and Connecting Country also provided support.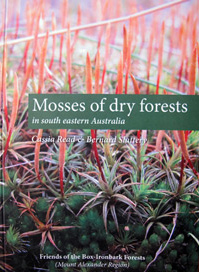 Mosses of dry forests in south eastern Australia
by Cassia Read and Bernard Slattery
A guide for students and absolute beginners – technically accurate, but free of technical language – this book presents a little-known part of the plant kingdom to a new audience. The guide contains an introduction explaining the life cycle of mosses and their importance in the ecosystem, tips on how to approach identification, detailed descriptions of common species, and appendices carefully distinguishing mosses from liverworts and lichens. This is a community project of FOBIF generously supported by The Norman Wettenhall Foundation.

So, who will be the lucky number 1,000th follower on Facebook? Click away for a chance to win, if you're quick ……..
Posted on 25 July, 2019 by Jacqui
The Weed Spotter newsletter keeps weed spotters up to date on the latest news about Agriculture Victoria's High Risk Invasive Plants program. This includes new discoveries of State prohibited weeds in Victoria, progress of eradication programs and species case studies.
For more information and to view their latest news – click here
The latest newsletter includes news about Camel thorn (Alhagi maurorum) management. This State prohibited weed is a perennial shrub found in northern agricultural areas of Victoria, often associated with drainage lines, irrigated pastures and neglected land. Camel thorn is a low shrub, typically 25 – 60 cm tall with val blue-green leaves and yellow tipped spines along the stems. Small pink, pea-like flowers occur between November to March. Roots can penetrate to greater than 5 m in depth and 8 m laterally, making chemical application and eradication efforts difficult. Mechanical control is not feasible as plants regenerate from root fragments that are readily spread via soil movement.
Posted on 23 July, 2019 by Ivan
The next Wheel Cactus Community Field Day is on Sunday 28 July 2019 at a property located east of Cairn Curran Reservoir at Baringhup VIC (see map below).
The location will be well signposted from the corner of Cairn Curran and Baringhup Roads. The field day begins at 10:30 am and ends at approximately 12:30 pm with a delicious BBQ lunch and friendly chat. Join the Tarrangower Cactus Control Group Inc. (TCCG) to learn how best to destroy Wheel Cactus and enjoy a morning in the beautiful outdoors. TCCG will supply all equipment, but please be sure wear sturdy shoes, long pants and sleeves and a hat. Everyone is welcome, including children (who must be supervised by a parent at all times).
The Tarrangower Cactus Control Group Inc. (TCCG) consists of Landcare volunteers dedicated to the eradication of Wheel Cactus (Opuntia robusta). TCCG, in conjunction with Parks Victoria, holds friendly and informal Wheel Cactus Control community field days to inform and demonstrate control techniques, on the last Sunday of the month from May to October. These field days always end with a free BBQ lunch, cuppa and cake and the opportunity to chat, exchange ideas and make contacts. It is a great opportunity to spend a rewarding morning outdoors, meeting neighbours and others who are concerned about preserving our unique environment. Everyone is welcome, no previous experience is required and all equipment is supplied. View the video below to catch the 'cactus warriors' in action.
Posted on 23 July, 2019 by Ivan
Explore citizen science and challenges concerning climate change on species conservation
The State Wide Integrated Flora and Fauna Teams (SWIFFT) is a network and an initiative supported by Federation University Australia, the Helen Macpherson Smith Trust, Zoos Victoria, the Ballarat Environment Network and the Victorian Department of Environment Land Water and Planning.
SWIFFT comprises a wide diversity of interests such as Landcare, conservation and field naturalists groups together with members of the community, including farmers and landholders, who share an interest in nature conservation. SWIFFT also has involvement from environmental consultants, local government, tertiary institutions conservation agencies and organisations such as Trust for Nature, Greening Australia, Catchment Management Authorities, Parks Victoria and Connecting Country. All are welcome to join the conversation!
SWIFFT connects people with events, information and others interested in threatened species and biodiversity conservation. They are holding an online video conference on Thursday 25 July 2019 from 9:55 am – 12:15 pm AEST. You can connect from your home, or from a local state government office at Bendigo, Ballarat or further afield (click here for details)
The online event includes the following presentations:
Climate Watch: Informing climate change knowledge gaps through citizen science by Nadia Roslan (ClimateWatch Program Manager at the Earthwatch Institute).
A #BlueCarbonArmy counteracting climate change by Dr Maria Garcia-Rojas (Field Operations Manager, Blue Carbon Army).
Australian Museum's citizen science project 'frog id' by Adam Woods (FrogID Science Communicator and Project Coordinator, Australian Museum).
Redmap by David Mossop (Redmap National Coordinator).
For more information and to register – click here.
SWIFFT requests those attending the video conference in person at an office location to please sign in at reception by 9:40 am. All are welcome to join other participants in the lunchtime conservation conversations following the presentations.