Posted on 29 September, 2022 by Hadley Cole
As part of the Landcare Sticky Beak Tour in October 2022 we will be celebrating the work of Landcare and friends groups across the Mount Alexander/ Leanganook region.
Today we will have a little sticky beak into the wonderful work of Castlemaine Landcare Group.
Castlemaine Landcare Group (CLG) has been running for 20 years and has achieved a great deal along Forest and Moonlight Creeks, close to the centre of Castlemaine VIC.  An area of gorse, blackberry and other weeds, has been transformed into a place of natural diversity and beauty. There is always more to do to encourage indigenous flora and fauna and deal with the ever-present weed challenges. CLG are a welcoming and well-organised group, and are always pleased to see new volunteers join their regular working bees.
To explore some of CLG work head to the Happy Valley (or Leanganook) walking track alongside Forest Creek, from Happy Valley Road to Colles Rd, or the stretch of Moonlight Creek from Happy Valley Rd downstream to Forest Creek. This is a beautiful part of the local environment and showcases Castlemaine Landcare's work over 20 years. The area is shown on the map below, with marked access points (eg. E2) and our names for work areas (eg., The Copses). This area stretches for about 1 km, and can be approached as one walk, or in parts.
 CLG has about 40 members plus a number of other regular helpers.  They work predominantly on the Crown Land along the creek reserves, with some involvement of neighbouring landholders. Working bees are usually held every fortnight. 
Further details can be found on the CLG website (castlemainelandcare.org.au) or Facebook page (facebook.com/CastlemaineLandcare)
This October, get out there and explore your local neighbourhood and see what plants and animals you can find in your local Landcare group's sites!
The Sticky Beak Tour was made possible through the Victorian Landcare Grants with the North Central Catchment Management Authority.

Posted on 26 September, 2022 by Ivan
Connecting Country is delighted to announce our Annual General Meeting (AGM) for 2022. After two years of online AGMs, we finally meet at the magnificent Campbells Creek Community Centre in person. Hurrah!
Please join us for this free event on Saturday 19 November 2022 at 2.00 pm for brief AGM formalities, afternoon tea and our special guest presenter. As usual, it will be much more than an AGM!
Our theme is 'Caring for large old trees in our landscape' and we will feature a special presentation:
Large old trees: Caring and sharing their future
Chris Pocknee – Landscape and Biodiversity Conservation Ecologist with Biolinks Alliance
Chris is an ecologist with a passion for understanding the threats facing native fauna and ecosystems, and how we can address these issues. Chris grew up in the south-eastern suburbs of Melbourne and completed his MSc at the University of Melbourne in 2017 before undertaking an internship with the Australian Wildlife Conservancy in NSW. Chris has recently submitted his PhD thesis at the University of Queensland, where he studied the impacts of fire and feral cats on the Endangered northern bettong. He relishes collaborative ecological work, and is passionate about empowering communities to conserve and recover local biodiversity. Chris loves exploring the outdoors, camping, wildlife photography and football.
Join Chris to learn about how to care for old trees in our landscape, and how vital they are to a host of woodland birds and other wildlife.
Everyone is most welcome! Please register your attendance for the meeting – click here
AGM formalities
The following Connecting Country AGM 2022 documents are available for download:
Our independant financial audit report 2022 is  in progress and will be available in early November prior to the AGM.
Please note only current Connecting Country members can vote in the AGM. To become a member or renew your membership – click here
If you have any questions, please email info@connectingcountry.org.au
Thank you to the Ian & Shirley Norman Foundation for their invaluable support of our 'Caring for large old trees' project.
Posted on 21 September, 2022 by Hadley Cole
The Mount Alexander region Landcare sticky beak tour is a celebration of Landcare and friends groups across the region! Many of the natural spaces you can experience in our beautiful region have been lovingly brought back to life and cared for by the incredibly dedicated network of Landcare and friends groups of the region.
Our Landcare sticky beak tour provides an opportunity for our local Landcare and environment groups to showcase their work both online over the month of October 2022, and in person at the launch on Saturday 8 October 2022 at Honeycomb Reserve (end of Honeycomb Rd), Campbells Creek VIC from 10.00 am to 12 noon.
Connecting Country will launch the project in partnership with local Landcare and friends groups, with a walking tour in and around sites in the Campbells Creek area. This is a great opportunity to hear about the activities of local Landcare groups, meet some of the Landcarers and share their stories. Everyone is welcome and morning tea will be provided. Sturdy walking shoes and drink bottles are recommended.
Please book to assist us with planning.
To book for this free event – click here
If you have questions about the Landcare sticky beak tour please contact Connecting Country's Landcare Facilitator, Hadley Cole – hadley@connectingcountry.org.au
This project is funded by North Central Catchment Management Authority as part of the Victorian Landcare Grants.
Posted on 1 September, 2022 by Frances
Its's been 25 years since a small group of passionate locals came together to form Harcourt Valley Landcare, near Castlemaine in central Victoria. Many projects and volunteer hours have helped protect the unique Harcourt Valley environment.
Harcourt Valley Landcare invite the Mount Alexander community and Landcare network to come and celebrate with them over a morning tea from 10.00 am to 12.00 pm on Sunday 25 September 2022 at Leanganook Campground, Mount Alexander VIC. All are welcome to join and hear from guest speaker and local legend, George Milford.
For further event details please refer to their flyer – click here
If you wish to attend please RSVP by 16 September 2022 via email: info@harcourtvalleylandcare.org
But that's not all!
Harcourt Valley Landcare just published their brand new, fabulous brochure promoting their wonderful people and beautiful landscape to prospective members.
To view the new Harcourt Valley Landcare brochure – click here
To learn more about Harcourt Valley Landcare, please visit their website – click here
We wish Harcourt Valley Landcare a very happy birthday and many congratulations for their many achievements over the last 25 years.
Posted on 24 August, 2022 by Jacqui
Landcare groups of the Mount Alexander region – we want to hear from you! 
We are delighted to announce a giveaway as part of our Rapid Response Landcare Recovery project. 
We encourage local Landcare groups to enter for a chance to win 50 plants and protective tree guards and stakes to use on one of your projects. 
To enter please answer this question in 100 words or less:
'How would 50 plants and guards add value to one of your Landcare projects?' 
Please respond via comments on this blog, email (hadley@connectingcountry.org.au) or on this post on the Connecting Country Facebook page. Make sure to identify your Landcare group in your response. 
Competition closes Wednesday 31 August 2022.
This competition is only open to Landcare groups within the Mount Alexander region of central Victoria.
Our Rapid Response Landcare Recovery project was made possible due to the generosity of the Helen Macpherson Smith Trust and their commitment to supporting the restoration and protection of sustainable environments across Victoria. 
Posted on 4 August, 2022 by Frances
Our friends at Castlemaine Field Naturalists Club and BirdLife Castlemaine District are teaming up to host a joint meeting. Local nature guru Tanya Loos will speak on an important topic that is sure to interest many of our readers.
Friday 12 August 2022 at 7.30 pm via Zoom
Speaker: Tanya Loos, Nature writer and science communicator
Topic: Window strike: when birds hit windows
Window strike is a huge problem for common birds as well as threatened species such as the Swift Parrot and Powerful Owl.  Many of us have had the unfortunate experience of a thud or even a crash as a bird in rapid flight collides with a window at home. The good news is there are easy steps you can take to prevent this happening.
The meeting will be held by Zoom.  All are welcome.
If you have not joined earlier webinars and wish to attend, please email Peter Turner at munrodsl@iinet.net.au
Posted on 27 July, 2022 by Hadley Cole
Sunday 31 July 2022 is National Tree Day – a day for the whole country to come together and celebrate the indigenous plants of the nation.
Established in 1996, National Tree Day has grown into Australia's largest community tree planting and nature care event. The program is a call to action for all Australians to get their hands dirty and give back to their community.  Each year, around 300,000 people volunteer their time to engage in environmental activities that educate Australians about the world around them. 
Local Landcare groups often celebrate National Tree Day with planting events across the region. If you are keen to get involved see below for events (including the Castlemaine Landcare Group planting we posted about yesterday), happening across the Mount Alexander region this coming Sunday 31 July 2022. 
Castlemaine Landcare Group planting 
When: Sunday 31 July 2022, 10:00am
Where: You can access the site from Happy Valley Road – see access point E2 on our website https://castlemainelandcare.org.au/where-we-work/
What to bring: As per usual practice – don't come if you have any COVID symptoms, maintain social distance, wear stout footwear and gloves, plus sun-protection.
Bring your own cup and drinking water.
How to register: Please register at clgvolunteers99@gmail.com with the heading WORKING.
For more information visit the Castlemaine Landcare Group website – here or their Facebook page – here
Friends of Campbells Creek
When: Sunday 31 July 2022, 10:00am – 12:00pm
Where:  here on the walking trail near Yandell Street, Castlemaine for a 10:00 a.m. start.  There is plenty of space for car parking at the east end of Yandell Street here.
What to bring: Light gloves, sturdy clothing suited to the weather and footwear appropriate for wet ground: gumboots are strongly advised! And your own drinking water if needed.
RSVP: Please email info.focc.org.au@gmail.com for catering purposes. There will be a barbecue provided at midday.
For more information head over to the Friends of Campbells Creek website – here
Tarrangower Wheel Cactus Control Group
Planting trees and other indigenous plants are definitely an important part of building species diversity and ecosystem resilience. However, weed management is just as important in the protection of our native species. This National Tree Day the Tarrangower Wheel Cactus Control Group aka The Cactus Warriors are hosting a field day to demonstrate how to destroy Wheel Cactus.
When: Sunday 31 July 2022, 10:30am and end with an enjoyable BBQ and friendly chat.
Where: The location is on a property a few kms north of Maldon in Baringhup Road, just after the turn off from Bridgewater Road (the route will be signposted).
What to bring: Sturdy foot ware and warm clothing
RSVP: via the website www.cactuswarriors.org
National Tree Day is a fun opportunity to take on-ground action in the protection of our region's biodiversity. Your action on this day (and every other day of the year) goes a long way in establishing more native and indigenous species in the region which contribute greatly to healthy ecosystems and happy flora and fauna communities!
Posted on 22 June, 2022 by Hadley Cole
On 2 June 2022 Connecting Country hosted a Landcare Link-up with the theme of 'Getting to know Connecting Country'. Our Landcare Link-ups provide an opportunity for Landcare and Friends groups of the Mount Alexander region to come together and share information, knowledge and experience. Historically, Connecting Country hosts a Landcare Link-up twice a year.
The event was held at the lovely historical Chewton Town Hall on a cold winters evening. Attendees came far and wide from Sutton Grange, Nuggety and Redesdale and represented eight Landcare groups from the region. Frances Howe and Brendan Sydes from Connecting Country gave a brief presentation on the work Connecting Country is involved in outside of Landcare, which covers community engagement, landscape restoration, and biodiversity monitoring.
Attendees enjoyed the opportunity to understand more about Connecting Country as an organisation and meet some of the staff and committee members who make all the work happen. It was also a great chance for neighbouring Landcare groups to discuss some of the restoration challenges they have on the ground and compare notes on the various landscapes the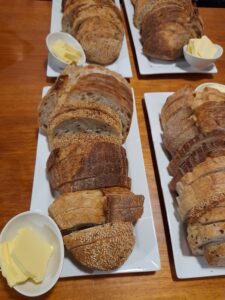 y are working across.
We all enjoyed a hot and tasty vegetable soup and crusty bread for dinner followed by cakes and biscuits for dessert, which were all made possible by generous donations from wonderful local businesses Green Goes the Grocer, Sprout Bakery and Maxi IGA Castlemaine. It is heartwarming to know that local business will dig deep when it comes to supporting our local Landcare groups who do an amazing job in protecting and enhancing biodiversity in the Mount Alexander Region.
A special thank you to Hadley, Marie and Bonnie for setting up the venue and making the soup!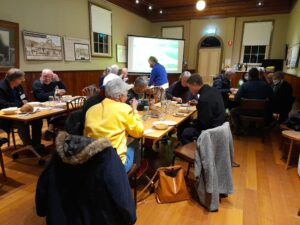 If you would like to connect with your local Landcare or Friends group – click here
To find out more about Landcare in the region, please contact our local Landcare Facilitator, Hadley – hadley@connectingcountry.org.au
Posted on 16 June, 2022 by Frances
Our colleagues and wetland experts, Damien Cook and Elaine Bayes, have some excellent news: The Wetland Plant Identification and Ecology Course is back for 2022! Read on for details from the Wetland Revival Trust.
Commencing December 2022, this course is for anyone interested in Wetland Plant Identification and wetland ecology.
The course is run on three separate days from December 2022 to April 2023 to allow participants to observe the changing seasons and water depths of the stunning Reedy Lagoon, Gunbower Island over a five month period. Each of the three days will focus on a different wetland habitat (wetting and drying) and associated plant community.
To find our more or register – click here
The course is now being run through the new not for profit charitable trust, the Wetland Revival Trust.  All profits from the course will feed into to wetland purchase, wetland projects and management.  See www.wetlandrevivaltrust.org to find out more.
To download the full course information flyer – click here