Posted on 14 February, 2019 by Asha
It's that time of year again! Details of the sixth Camp Out on the Mount are now available and registrations are open. Please join Connecting Country, Little Habitat Heroes and local Landcare groups to celebrate the beautiful Leanganook (Mount Alexander) and the fabulous work that Landcare and Friends groups do all year round.
This free event is supported by funding from the North Central Catchment Management Authority through the Victorian Landcare Program, as well as Mount Alexander Shire Council, Friends of the Box-Ironbark Forests, and Little Habitat Heroes. We will have guest presenters from Dja Dja Wurrung Clans Aboriginal Corporation, Parks Victoria and Bendigo TAFE, along with local authors and artists. Yummy food will also be provided by the Harcourt Lions Club, Murnong Mummas, and the Camp Out Damper Team.
CLICK HERE to visit the booking website
CLICK HERE to download the flier
When: Saturday 6 – Sunday 7 April 2019
Where: Leanganook Camping Ground, Joseph Young Drive, Mount Alexander Regional Park, Faraday VIC
What to bring: Camping gear and supplies, food for Sunday breakfast, gold coin donation or Saturday night BBQ, weather-appropriate clothes, sturdy shoes and sun protection.
Below is a run-down of the Camp Out on the Mount 2019 program. You are more than welcome to attend some or all of the activities. Please let us know through the booking website which activities you plan to attend, as this will help us in planning how many people to cater for.
If you have any questions, please call Asha on (03) 5472 1594 or email asha@connectingcountry.org.au
Please note: activities will be cancelled in the case of severe weather.
SATURDAY 6 APRIL
5:30 pm  Welcome to Country
6:00 pm  Lions Club BBQ and damper (gold coin donation)
7:30 pm  Night walk with Parks Victoria ranger
OVERNIGHT CAMP OUT (BYO camping gear and supplies)
SUNDAY 7 APRIL
9:30 am   Bus down to Old Silk Worm Farm site
10:00 am Welcome and morning tea
10:30 am  Panel of local experts talk about the Mount, including Rebecca Phillips (Dja Dja Wurrung Clans Aboriginal Corporation), Terri Williams (Bendigo TAFE), and Ian Braybrook and Marilyn Bennet (authors of 'Sarah's search – A silk odyssey'), facilitated by George Milford
11:30 am  'Seeds that grow' song performed by Eva Popov
11:45 am  'Make you own native seed balls' activity
12:30 pm  Bus back to camp site
Posted on 2 January, 2019 by Frances
Following Connecting Country's highly popular nest box workshops during autumn 2018, we've compiled some nest box design and installation tips. These tips were compiled by Connecting Country's Tanya Loos from our workshops with local ecologist and nest box builder, Miles Geldard.
All animals need to meet their basic needs of something to eat and somewhere to live. Australia's fauna is particularly reliant on hollows for shelter and breeding – possums, gliders, bats, kookaburras, parrots, treecreepers, reptiles such as geckos and even frogs need hollows.
Hollows are a highly limited resource in today's Box-Ironbark forests. The sheer scale of clearing and removal of large old trees for timber in our region is almost unbelievable. Trees were logged for railway sleepers, mine shaft infrastructure, baker's ovens, boilers, heating and construction. Only 15% of the Box-Ironbark forests remain and virtually no old growth patches are left.
Hollows may begin to form in any aged tree, even relatively young trees if the conditions are right. In some countries, woodpeckers create hollows in trees.
Here in Australia, the bark needs to be damaged in some way – either by wind, lightning, fire or by animals (such as galahs) – so that termite or fungal activity may begin to create a hollow. In Box-Ironbark forests, termites do most of the hollow formation, whereas in wet forests it is fungi. Galahs and other parrots love to chew bark. Are they ecosystem engineers creating hollows for the future, or just larrikins sharpening their bills?
Miles has reviewed scientific papers on our local hollow-using fauna's habitat needs and preferences. He uses this information when designing and installing nest boxes considering internal hollow dimensions, size of entrance, tree type, location on tree and orientation.
Miles suggests installing as many nest boxes as you can manage to install and maintain. Many hollow-dependent animals use multiple nesting sites located across their home range.
For Connecting Country's full notes with nestbox design and installation tips: click here
The Victorian Department of Environment, Land, Water and Planning also recently published some useful general information about nestbox use (click here) and monitoring (click here).
Posted on 12 December, 2018 by Frances
The dams and waterways of central Victoria are perfect for catching yabbies over summer. However, poorly designed yabby nets also catch native wildlife like platypus, turtles and rakali (native water rat). Sadly, these air-breathing animals can become trapped in the nets and drown.
Opera house style yabby nets are believed to kill hundreds of platypus each year. In January 2018, the Department of Environment, Land, Water and Planning (DELWP) recorded that 13 platypus died after drowning in illegally set opera house nets in Victoria. DELWP urged Victorians not to use enclosed traps such as opera house nets, and only use platypus-safe alternatives. Senior Wildlife Investigator Mike Sverns said, 'Platypus are an iconic Australian species that are declining. To lose 13 platypus in one year is tragic'.
Opera house nets are banned in all waters throughout Victoria from 1 July 2019. Opera house nets have been phased out and replaced with new open-top lift nets, which are more wildlife friendly. Unlike opera house nets, open-top nets feature a 20 x 20 cm gap at their top, which enables air-breathing animals like platypus to escape. The Victorian Fisheries Authority has conducted trials and shown open-top lift nets are very effective yabby catchers.
When announcing the ban, Minister for Agriculture Jaala Pulford said, 'Opera house nets have been placing our platypus population at risk and so it's time for us to embrace different fishing gear that will catch just as many yabbies without impacting our precious wildlife'.
Many people who have purchased opera house nets to fish for yabbies are unaware of the risks they present to wildlife, and that these nets have long been banned in Victorian public waters. From 1 July 2019 the ban will extend to include all private waters.
If you have an opera house net you should dispose of it and replace it with an open-top lift net. We recommend dismantling old opera house nets, as even on land they can still entangle terrestrial wildlife, leaving them to a slow and painful death.
Major fishing equipment suppliers and responsible retailers have already removed opera house nets from sale, with some participating in a yabby net swap program. However, a few retailers continue to sell opera house nets despite the wildlife risk and imminent ban.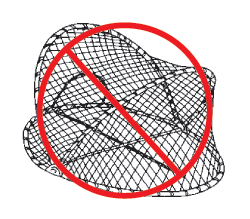 Under the Victorian Wildlife Act 1975 there are penalties associated with taking or being in possession of protected wildlife or using prohibited equipment which is up to a maximum of $38,0562, and/or 24 months imprisonment. To report crimes against wildlife you can call Crime Stoppers confidentially on 1800 333 000 or online at https://www.crimestoppersvic.com.au/report-a-crime/