Posted on 12 December, 2018 by Frances
The dams and waterways of central Victoria are perfect for catching yabbies over summer. However, poorly designed yabby nets also catch native wildlife like platypus, turtles and rakali (native water rat). Sadly, these air-breathing animals can become trapped in the nets and drown.
Opera house style yabby nets are believed to kill hundreds of platypus each year. In January 2018, the Department of Environment, Land, Water and Planning (DELWP) recorded that 13 platypus died after drowning in illegally set opera house nets in Victoria. DELWP urged Victorians not to use enclosed traps such as opera house nets, and only use platypus-safe alternatives. Senior Wildlife Investigator Mike Sverns said, 'Platypus are an iconic Australian species that are declining. To lose 13 platypus in one year is tragic'.
Opera house nets are banned in all waters throughout Victoria from 1 July 2019. Opera house nets have been phased out and replaced with new open-top lift nets, which are more wildlife friendly. Unlike opera house nets, open-top nets feature a 20 x 20 cm gap at their top, which enables air-breathing animals like platypus to escape. The Victorian Fisheries Authority has conducted trials and shown open-top lift nets are very effective yabby catchers.
When announcing the ban, Minister for Agriculture Jaala Pulford said, 'Opera house nets have been placing our platypus population at risk and so it's time for us to embrace different fishing gear that will catch just as many yabbies without impacting our precious wildlife'.
Many people who have purchased opera house nets to fish for yabbies are unaware of the risks they present to wildlife, and that these nets have long been banned in Victorian public waters. From 1 July 2019 the ban will extend to include all private waters.
If you have an opera house net you should dispose of it and replace it with an open-top lift net. We recommend dismantling old opera house nets, as even on land they can still entangle terrestrial wildlife, leaving them to a slow and painful death.
Major fishing equipment suppliers and responsible retailers have already removed opera house nets from sale, with some participating in a yabby net swap program. However, a few retailers continue to sell opera house nets despite the wildlife risk and imminent ban.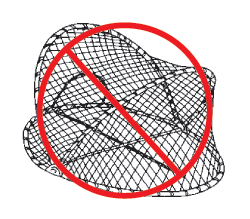 Under the Victorian Wildlife Act 1975 there are penalties associated with taking or being in possession of protected wildlife or using prohibited equipment which is up to a maximum of $38,0562, and/or 24 months imprisonment. To report crimes against wildlife you can call Crime Stoppers confidentially on 1800 333 000 or online at https://www.crimestoppersvic.com.au/report-a-crime/
Posted on 12 December, 2018 by Asha
As per Castlemaine Field Naturalists tradition, their December 2018 general meeting is a chance for any member (or visitor) to make a short presentation. People are encouraged to talk for up to five minutes about a topic related in some way to natural history. It might be photos from a holiday to an exotic location, video footage of birds in your backyard, an analysis of recent weather patterns, or reciting a poem about a forest. It is only limited by your imagination. There will be a projector, PC laptop and screen available for use.
The evening commences from 7.30 pm on Friday 14 December in the Fellowship Room behind the Uniting Church on Lyttleton St, Castlemaine VIC (next door to the Castlemaine Art Museum). Members and visitors of all ages are welcome, and entry is free.
If you'd like, bring along a plate of food to share with everyone afterwards.
For further information on Castlemaine Field Naturalists Club see their website here.
Posted on 12 December, 2018 by Asha
Deakin University, in collaboration with Land for Wildlife, is seeking volunteers to participate in a citizen science project called Wildlife to Wellbeing. The project will trial new camera technology to monitor and identify wildlife on properties registered with the Land For Wildlife program in Victoria.
This is an exciting opportunity to be part of a project that tests new video technology developed at Deakin University, and being used for the first time anywhere in the world! The technology enables 24-hour, continual monitoring of wildlife and will capture video recordings of a greater proportion of animals than existing wildlife cameras.
The cameras will operate for up to three months from the time of set up in January/February 2019. Deakin Uni will collect the cameras at the end of the project to reuse in future projects.
To participate, your property needs to have heathy dry forest or grassy dry forest ecological vegetation classes (EVCs). You may qualify if your property is located in central Victoria, within the rough area of Bacchus Marsh – Ballarat – Ararat – Maryborough – Dunolly – Bendigo – Elmore – Rushworth – Seymour – Yea – St Andrews – Whittlesea – Sunbury.
Getting involved
For more information about getting involved, go to http://bit.ly/Wildlife_To_Wellbeing
Or contact Jason Major by email at j.major@deakin.edu.au or phone (during business hours) on 0455 288 309.