Posted on 19 December, 2018 by Tanya Loos
Who needs reindeer, red robins, or snowmen when the holiday season is graced with baby antechinus! Landholder Jane Rusden lives on a bush block in Campbells Creek, and is able to watch the antics of very young antechinus just after they leave the nest.
The antechinus is a carnivorous marsupial, in the same family as the much larger Tasmanian Devil, quoll and phascogale. In the Castlemaine region our local species is the Yellow-footed antechinus. These attractive marsupials are regular feature on Geoff Park's blog, Natural Newstead. To identify the presence of antechinus or rats by their droppings, click here to read a post on Tanya Loos' blog.
Please scroll through to enjoy this gallery of photos of the young antechinus that Jane photographed from her lounge room window last week. Thank you to Jane for sharing them!
Posted on 18 December, 2018 by Frances
The Connecting Country office will be closed from Friday 21 December 2018 and reopen on Wednesday 2 January 2019.
Our usual office hours are 8.30 am to 4.30 pm Monday to Thursday. If you're coming to visit please feel free to call ahead, as occasionally we're all out and about at once.
We wish you all the best for a safe and peaceful holiday season, with lots of interesting summertime critter sightings!
Posted on 18 December, 2018 by Frances
The next monthly BirdLife Castlemaine District Branch bird walk will be on Saturday 5 January 2019. The walk will be led by Tanya Loos and will be through relatively moist leafy forest, perfect for the summer holidays. Suitable for all ages and levels of bird enthusiasts.
Join Tanya on a wander through the wet ferny gullies and peppermint ridges of the Wombat Forest. We will do the Whipstick Creek Loop walking track which takes 3 – 4 hours. Those who wish to do part of the walk can retrace their steps. On our walk we are likely to see local special species such as Rufous Fantail, Crescent Honeyeater, Gang Gang Cockatoo and Blue-winged Parrot. We might also see Rose Robin, Bassian Thrush and Square-tailed Kite.
Wear sturdy shoes and a hat, and bring along insect repellent, sunscreen, water, snacks and lunch. And, of course, binoculars. In case of extreme weather the walk will be cancelled.
Meet at the former Continuing Education building at 30 Templeton St Castlemaine VIC at 8.30 am sharp, to car pool. Alternatively, meet at Garden of St Erth car park, 189 Simmons Reef Rd Blackwood, VIC at 9.30 am.
Garden of St Erth is one of The Diggers Club's properties and a fantastic perennial and fruit garden, with a cafe and nursery – well worth a look!
Wombat Forest birdwalk
When:   Saturday 5 January 2019 at 8.30 am to car pool or 9.30 am to join walk
Where:  to carpool meet at 30 Templeton St Castlemaine VIC
               to join walk meet at Garden of St Erth car park, 189 Simmons Reef Rd Blackwood, VIC
Bring:    sturdy shoes, hat, insect repellent, sunscreen, water, snacks, lunch, binoculars
For information about BirdLife Castlemaine District Branch click here
Posted on 17 December, 2018 by Asha
If you read the Midland Express newspaper, you may have been enjoying Connecting Country's monthly 'Nature News'. This year we featured Landcare stories written by intern Sarah Edwards and local Landcarers. This week, the last of these ten stories was published in the paper, featuring this story written by Brian Bainbridge about the wonderful Taradale Landcare.
Taradale Landcare Group came together over twenty years ago over their shared passion for walking in the bush, managing the land, and learning about native flora and fauna. After many years of committed work, eventually the group lost momentum and folded in 2012.
Following a meeting to gauge interest, several prospective new members and a sprinkling of original members reformed Taradale Landcare in 2016.
Things started slowly with meetings and discussions to learn about the member's priorities and interests- as well as conducting the 'house-keeping' needed to re-establish the group's organisation and accounts. The Back Creek alongside the Mineral Springs Reserve near the centre of town has become a natural focus and base. The group has resurrected the work of the earlier group by treating weeds, uncovering the now maturing plantings, and replanting to fill in the gaps. In 2018, a Mt Alexander Shire Roadside weeds grant has encouraged the group to learn to coordinate and conduct sensitive weed control along the best roadside remnants, a process expected to continue for several years.
The group's walks and talks encourage exploration by the many newly arrived residents of their adopted town's historical sites including the Channel, Barkly Park, the Cemetery and the Quartz Battery, each with important ecological values that could be enhanced. This summer will see the group conduct seed collection (under permit) and propagation of wildflowers, grasses and trees- in consultation with the Cemetery trust.
A theme of the newly emerged group is to engage and have a presence at local gatherings while ensuring the group's own events have a social as well as ecological outcome. Shared meals encourage the sharing of ideas to continue long after the 'real' work has ended.
If you are interested in being a part of Taradale Landcare Group or have any questions, email Colleen Jones at colfjones@yahoo.com.au or like the group's Facebook page at https://www.facebook.com/taradalelandcare/.
Posted on 12 December, 2018 by Frances
The dams and waterways of central Victoria are perfect for catching yabbies over summer. However, poorly designed yabby nets also catch native wildlife like platypus, turtles and rakali (native water rat). Sadly, these air-breathing animals can become trapped in the nets and drown.
Opera house style yabby nets are believed to kill hundreds of platypus each year. In January 2018, the Department of Environment, Land, Water and Planning (DELWP) recorded that 13 platypus died after drowning in illegally set opera house nets in Victoria. DELWP urged Victorians not to use enclosed traps such as opera house nets, and only use platypus-safe alternatives. Senior Wildlife Investigator Mike Sverns said, 'Platypus are an iconic Australian species that are declining. To lose 13 platypus in one year is tragic'.
Opera house nets are banned in all waters throughout Victoria from 1 July 2019. Opera house nets have been phased out and replaced with new open-top lift nets, which are more wildlife friendly. Unlike opera house nets, open-top nets feature a 20 x 20 cm gap at their top, which enables air-breathing animals like platypus to escape. The Victorian Fisheries Authority has conducted trials and shown open-top lift nets are very effective yabby catchers.
When announcing the ban, Minister for Agriculture Jaala Pulford said, 'Opera house nets have been placing our platypus population at risk and so it's time for us to embrace different fishing gear that will catch just as many yabbies without impacting our precious wildlife'.
Many people who have purchased opera house nets to fish for yabbies are unaware of the risks they present to wildlife, and that these nets have long been banned in Victorian public waters. From 1 July 2019 the ban will extend to include all private waters.
If you have an opera house net you should dispose of it and replace it with an open-top lift net. We recommend dismantling old opera house nets, as even on land they can still entangle terrestrial wildlife, leaving them to a slow and painful death.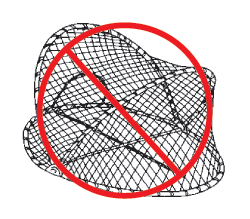 Under the Victorian Wildlife Act 1975 there are penalties associated with taking or being in possession of protected wildlife or using prohibited equipment which is up to a maximum of $38,0562, and/or 24 months imprisonment. To report crimes against wildlife you can call Crime Stoppers confidentially on 1800 333 000 or online at https://www.crimestoppersvic.com.au/report-a-crime/
Posted on 12 December, 2018 by Asha
As per Castlemaine Field Naturalists tradition, their December 2018 general meeting is a chance for any member (or visitor) to make a short presentation. People are encouraged to talk for up to five minutes about a topic related in some way to natural history. It might be photos from a holiday to an exotic location, video footage of birds in your backyard, an analysis of recent weather patterns, or reciting a poem about a forest. It is only limited by your imagination. There will be a projector, PC laptop and screen available for use.
The evening commences from 7.30 pm on Friday 14 December in the Fellowship Room behind the Uniting Church on Lyttleton St, Castlemaine VIC (next door to the Castlemaine Art Museum). Members and visitors of all ages are welcome, and entry is free.
If you'd like, bring along a plate of food to share with everyone afterwards.
For further information on Castlemaine Field Naturalists Club see their website here.
Posted on 12 December, 2018 by Asha
Deakin University, in collaboration with Land for Wildlife, is seeking volunteers to participate in a citizen science project called Wildlife to Wellbeing. The project will trial new camera technology to monitor and identify wildlife on properties registered with the Land For Wildlife program in Victoria.
This is an exciting opportunity to be part of a project that tests new video technology developed at Deakin University, and being used for the first time anywhere in the world! The technology enables 24-hour, continual monitoring of wildlife and will capture video recordings of a greater proportion of animals than existing wildlife cameras.
The cameras will operate for up to three months from the time of set up in January/February 2019. Deakin Uni will collect the cameras at the end of the project to reuse in future projects.
To participate, your property needs to have heathy dry forest or grassy dry forest ecological vegetation classes (EVCs). You may qualify if your property is located in central Victoria, within the rough area of Bacchus Marsh – Ballarat – Ararat – Maryborough – Dunolly – Bendigo – Elmore – Rushworth – Seymour – Yea – St Andrews – Whittlesea – Sunbury.
Getting involved
For more information about getting involved, go to http://bit.ly/Wildlife_To_Wellbeing
Or contact Jason Major by email at j.major@deakin.edu.au or phone (during business hours) on 0455 288 309.
Posted on 29 November, 2018 by Tanya Loos
On Sunday 25 November, 2018 attendees at our Kalimna Park Butterfly Count were delighted to observe two Eltham Copper Butterflies flying and then perching on native shrubs such as Sweet Bursaria (Bursaria spinosa) and Rough Wattle (Acacia aspera).
The count was led by two Eltham Copper Butterfly enthusiasts, ecologists Elaine Bayes and Karl Just. Elaine and Karl have a long association with this tiny threatened butterfly, and the afternoon involved a very informative discussion about the ecology, life history, and threats facing the butterflies. We also went out butterfly-spotting of course!
The Kalimna Park population of Eltham Copper Butterfly (ECB) is quite possibly the largest left in the state, but it is also not as well studied as other populations. Elaine and Karl are very keen to find volunteers who are willing to scour the park for adult ECBs.
The next butterfly count will be held on Saturday 12 January, 2019 between 1pm and 3 pm at Kalimna Park. Connecting Country will send out a blog post with all the details in early 2019. A subsequent count will be held on Saturday 16 February  – so pop those dates in your new diary 🙂
We were all fascinated by the complex life history of the ECB and this butterfly's relationship with the Sweet Bursaria (Bursaria spinosa) and a species of ant. Elaine wrote a great article about this interrelationship in 2016 for one of our early Nature News – click here.
The Eltham Copper Butterfly has rightly received a lot of attention in our region over the years -Connecting Country is proud to take part in the story and work with the people who care for the butterfly in the coming months.
Please enjoy this gallery of photos from the Butterfly Count. Click on the arrow on the right to move through the pictures.
Posted on 28 November, 2018 by Tanya Loos
The expression 'taking photographs' is a curious and revealing usage. In English, we don't 'make' photographs, we 'take' them. When photographing nature – wildlife, plants, landscapes – it can seem that the photographer 'captures' a beauty already there, taking something that belongs to the subject, but without diminishing the subject.
Bronwyn Silver, Geoff Park and Patrick Kavanagh roam the goldfields of Central Victoria, stealing images of the beauty they find. Birds, mammals, plants. Not even mosses and lichens are safe from their pilfering ways!
While the targets of their larceny are unaffected by the process, these thieves have been profoundly altered by the images they've stolen from the wild, seeing more deeply into the wonders of the natural environment. They are happy to share their bounty at Newstead Arts Hub during December.
Nature photography on the Goldfields – with Patrick Kavanagh, Geoff Park and Bronwyn Silver
Location: Newstead Railway Arts Hub, 8a Tivey St, Newstead, VIC
Time: 10.00 am – 4.00 pm on the first four weekends in December (1-2, 8-9, 15-16, 22-23 December 2018).
The official exhibition opening is at 11.00 am on 2 December 2018. Refreshments will be provided and everyone is welcome. For more details contact Bronwyn Silver on 044 8751 111.
Please enjoy a sneak preview of some of the beautiful photos that will be on display.
Posted on 22 November, 2018 by Frances
If you want to learn more about local native plants and how to collect seed, Mount Alexander Shire Council is running a free workshop as part of their Sustainable Living Workshop Series.
Presented by Ian Higgins from Friends of Campbells Creek, you'll learn how to identify local plants, work out which are ready to harvest and collect seeds for Landcare projects.
The two hour workshop is suitable for people of all ages. Make sure you bring along a hat, gloves, drink bottle, sturdy shoes and secateurs.  Long sleeves are recommended, as some plants will be prickly!
When:   Saturday 24 November 2018 from 10.30 am to 12.30 pm
Where: Meet at Honeycomb Reserve, Honeycomb Rd, Campbells Creek VIC
RSVP:   Secure your place by contacting Council's Gabe Macauly
              at g.macauly@mountalexander.vic.gov.au or 5471 1834.
Posted on 22 November, 2018 by Tanya Loos
Landholders Steve and Sue Harrisson of Joyces Creek in Central Victoria are delighted to report that Diamond Firetails are nesting in the climbing rose on their pergola!
The Harrisson's property is a mix of open paddocks, large old remnant trees, and dense wattles and other shrubs from direct seeding. The property has a long-term Connecting Country bird monitoring survey site, and Diamond Firetails have been observed on occasion. One year they bred down near a small dam.
Diamond Firetails often nest in dense or prickly native shrubs such as Hedge Wattle. But this year, at the Harrissons, the enterprising little finches have decided that a rose vine draped across a pergola provides the same function as a prickly shrub.
Steve says 'Judging by the amount of noise coming from the nest when the adults arrive with food, there must be more than one nestling. Very exciting!'
Diamond Firetails are declining throughout their range. These finches need access to fresh water and plenty of mature grasses for seeds and for nesting, so drought is especially hard on them. Steve and Sue are very pleased that their home is providing habitat for this very attractive threatened species.
Posted on 22 November, 2018 by Tanya Loos
How we manage fire is an important conversation for rural and bush communities. What can we learn from how Aboriginal people used fire? Are those techniques applicable today in local landscapes that have changed a lot over the last 200 years?
Join the Newstead community for two events this November:
Returning cultural burning – Djandak Wi – to Country
Thursday 29 November 7.30 pm.
Newstead Community Centre (9 Lyons St, Newstead VIC).
All welcome, no booking required.
Come and hear Scott Falconer (Assistant Chief Fire Officer with Forest Fire Management Victoria) share his experience in the United States and Canada where he explored the involvement of Indigenous people in land and fire management. Scott's research was supported through The Lord Mayor's Bushfire Appeal Churchill Fellowship. He was accompanied by Trent Nelson (Dja Dja Wurrung man and Parks Victoria Ranger Team Leader) for part of the research trip.
Reviving Indigenous Burning Practices in a Changed Landscape: Community Search Conference
Friday 30 November 9.00 am-5.00 pm.
Newstead Community Centre (9 Lyons St, Newstead VIC).
Free event but please book your place by Monday 26 November via Eventbrite.
Join expert panelists and local community members to explore how we might combine Western and Indigenous fire practice and knowledge in our local landscapes. At this one-day event we will discuss how we can connect Indigenous fire traditions with current approaches to fuel reduction and planned burns to shape new ways to protect our landscape and communities. This event is for everyone with an interest in this topic: community, government, academics, researchers.
Full details can be found on the Talking Fire website.
Talking Fire is a community initiative designed to create different kinds of community conversations about fire. It's supported by the Mount Alexander Shire Council Community Grants Program.
Posted on 15 November, 2018 by Tanya Loos
On Saturday 10 November 2018, some 60 people gathered at Campbells Creek Community Centre to enjoy an afternoon of science,  fun and delicious food. The event combined Connecting Country's Annual General Meeting for the 2017-2018 year with a threatened species forum to launch our new 'Habitat health check' project. We celebrated the findings and achievements of Connecting Country's long term monitoring programs with presentations by two very special scientists who directly support these programs: Professor Andrew Bennett and PhD Candidate Jess Lawton.
We would like to thank the Helen Macpherson Smith Trust for generously supporting 'Habitat health check', and to our presenters and all the committee members, staff and volunteers who assisted with the event.
Our AGM was short and sweet, and all but one of our committee members have re-elected for another year! The hard-working Connecting Country committee must be thanked for their considerable contribution to our organisation.
Elected members of Connecting Country's 2018-19 committee of management are:
President:                  Brendan Sydes
Vice President:         Saide Gray
Treasurer:                  Max Kay
Secretary:                  Marie Jones
Ordinary member:    Karoline Klein
Ordinary member:    Malcolm Trainor
Ordinary member:    Christine Brooke
For minutes from the AGM and forum, please click here. A more detailed review of Andrew and Jess' presentations will be shared next week.
If you would like a copy of our Annual Report for 2017-18, click here. Thanks to everyone who contributed to the report (especially Jacqui for making it look beautiful).
Please enjoy this gallery of some of the smiling faces at our AGM and Threatened Species Forum. (Photos by Tanya Loos and Frances Howe.)
Posted on 13 November, 2018 by Tanya Loos
Local ecologist Elaine Bayes asked us to promote a special presentation: Who lives in the Wombat Forest? 
All are invited to attend a short presentation on the amazing wildlife and threatened species of the Wombat Forest (located between Woodend and Daylesford). Gayle Osborne will speak on 'Citizen science with motion-sensing cameras'. Wombat Forestcare has spent years learning about, promoting and protecting this stunning forest. The group has used camera traps and spotlighting techniques to map populations of beautiful and endangered Greater Gliders, Powerful Owls and more.
Using  this information, Wombat Forestcare members have worked incredibly hard to protect the forest into the future, including gaining assessment as a potential National Park.
The Victorian Environmental Assessment Council's (VEAC) Central West Investigation just released a Draft Proposal report. New protection of public land has been recommended for Wombat forest (near Daylesford), Wellsford (near Bendigo), Mount Cole and Pyrenees Range forests (near Beaufort and Avoca) and dozens of smaller public parcels in the investigation area. This is a great opportunity to protect this land and its wildlife.
VEAC seeks community submissions regarding the proposal. Coming along, learn about the forest, and write a quick submission on the night if you wish.
Tea and cake and chat provided. All welcome! To download the event poster, click here. To read about Greater Gliders in the news, click here.
Who lives in the Wombat Forest?
When: Tuesday 20 November 2018 from 6.00 to 7.30 pm
Where: Ray Bradfield Rooms, Forest St (next to Victory Park), Castlemaine VIC
Posted on 7 November, 2018 by Asha
To complement Connecting Country's recent 'Future-proof your restoration' seminars, we're pleased to launch a new three-part resource to support landholders and Landcare groups interested in learning more about adapting land management to a changing climate.
Part 1 – resource links: A new Useful resources page on our website added to our existing collection of pages on Biodiversity and Climate Change. The address for this web page is https://connectingcountry.org.au/education-resources/take-action/biodiversity-and-climate-change/future-proof-your-restoration-useful-resources/ Here you will find a series of links to download resources related to biodiversity and climate change in our region, including information on weed control, revegetation and planning. There are also links to download copies of the presentations from the 'Weeds to Watch' and 'Planting for the Future' seminars. If you would like hard copies of any of the linked resources, please email asha@connectingcountry.org.au
Part 2 – info summary: If you'd like a bite-sized version of some of the information linked to on the web page, you can CLICK HERE to download a document we've put together summarising interesting facts.
Part 3 – fact sheet: Connecting Country's brand new 'Future-proof your restoration' fact sheet. CLICK HERE to download a copy, or drop into the office if you'd like some hard copies to hand out to your friends!
Thank you to the North Central Catchment Management Authority for funding this project through the Victorian Landcare Program, and to GreenGraphics for designing and printing the information sheet.
Posted on 7 November, 2018 by Jacqui
Come and see Connecting Country on the big screen! We were delighted to be part of Wild Melbourne's 'Community Conservationists' film project, and now locals have an opportunity to see the ten films created. Each film showcases a community group or project, including one featuring Connecting Country. The night is also a fundraiser event for the groups involved – so do head along and show your support 🙂
The Community Conservationists series will be screened in-full at the boutique Star Cinema in Bendigo, paired with drinks, food and talks by some of the featured groups. This screening follows a highly successful premiere in Melbourne early this year.
Community Conservationists is about celebrating the tree-planters, the wildlife carers, the citizen scientists, and anyone else who is putting in the hard yards for the good of us all. By sharing their stories we hope to better connect people with the nature and conservation issues on which they work, as well as help these groups attract more support from our community.

Community Conservationists film screening
When: Thursday 15 November  2018 from 6.00 pm to 8.00 pm
Where: Star Cinema, Eaglehawk Town Hall, Peg Leg Road, Eaglehawk VIC 3556
Price: $30 per ticket
Bookings: Please book online directly to the Wild Melbourne team by following this link: http://www.rememberthewild.org.au/community-conservationists-film-screening/.
Food and drinks will be available from 6.00 pm, with the following films and talks starting at 7.00 pm:
Hindmarsh Landcare Network
Connecting Country
Friends of the Brisbane Ranges
Friends of Bats and Bushcare
WOTCH
Posted on 7 November, 2018 by Tanya Loos
Join ecologists Elaine Bayes and Karl Just on a walk searching for the endangered Eltham Copper Butterfly, hosted by Friends of Kalimna Park.
The Eltham Copper Butterfly was once distributed around Victoria. Now the largest surviving population of this little butterfly lives in Castlemaine – it could very well be called the Castlemaine Copper Butterfly!
Karl and Elaine will lead us on a guided walk through the bushland at Kalimna Park on the edge of Castlemaine, and show us how to look for the adult butterflies. Friends of Kalimna Park members will explain how to help the habitat of these beautiful insects.
Friends of Kalimna Park's Annual General Meeting will be at 12.00 – 12.30 pm, followed by a light lunch, with the butterfly walk and talk starting at 1.00 pm.
When: Sunday 25 November at 12.00 noon – 3.00 pm
Where: Kalimna Point Rotunda, Kalimna Road, Castlemaine VIC
RSVP: Numbers are limited – so book now! Contact Tanya Loos, (Monitoring and Engagement Coordinator at Connecting Country) by email at tanya@connectingcountry.org.au or call our office on (03) 5472 1594.
All welcome! Please wear shoes and clothing appropriate for walking outside.
Elaine writes:
The reason I am fascinated with Eltham Coppers is because like many of the Blue butterfly family they have a weird and wonderful and totally dependent (obligate) three-way relationship with Notoncus ant species and Sweet Bursaria plants (Bursaria spinosa).  Notoncus ants are nocturnal ants which live underground including at the base of Sweet Bursaria plants. Eltham Coppers lay their eggs at the base of a Sweet Bursaria plant and once hatched the larvae is guided into the ant nest and protected. The larvae overwinters in the nest and ants lead them out to graze at night exclusively on the leaves of Sweet Bursaria. In return, the ants feed on sugars which are excreted by the larvae's honeydew gland.
Posted on 1 November, 2018 by Asha
Did you know we have around 30 Landcare and Friends groups in the Mount Alexander region? This is potentially the highest density of groups in the whole of Victoria!
During September 2018, you may have spotted one of our five Landcare Week stalls on the streets of Castlemaine or at our local markets. Here we chatted with passers-by about the wonderful work Landcare groups do, and handed out brochures and other resources. These included the newest edition of the Landcare in the Mount Alexander region brochure.
The new brochure looks amazing, thanks to the hard work of Jane Satchell, one of Connecting Country's landholders, who kindly volunteered her professional graphic design skills. In the brochure you will find information about what Landcare groups are all about, how you can get involved, a map showing all of our local groups, and contact details for each group.
CLICK HERE to download your very own copy, or drop into the office to pick one up.
Thanks to Jane for all her help with the brochure, and to the many generous volunteers who helped at the Landcare Week stalls.
Posted on 31 October, 2018 by Tanya Loos
Connecting Country is proud to work with Trust for Nature and delighted to promote the latest presentation with the Castlemaine Field Nats.
Deanna Marshall will present on 'Plains for the wanderer'  about a small grassland bird who is doing it tough – the Plains Wanderer. Deanna Marshall is Trust for Nature's North West Area Manager, and has been working hard to help Plains Wanderer habitat in this region.
Deanna supplied the following about these cryptic and special birds:
'Plains-wanderers are nationally critically endangered. They share a physical resemblance to quail, but in evolutionary terms, they are one of a kind – there's no bird like it in the world. In Victoria, 95% of native grasslands that Plains-wanderers formerly occupied have been lost to cultivation and urban development. The protection and maintenance of the habitat of the Plains-wanderer is vital for the conservation of the species, but will this be enough?'
The event commences at 7.30 pm on Friday 9 November 2018 in the Fellowship Room, located in the building behind the Uniting Church on Lyttleton St, Castlemaine VIC (next door to Castlemaine Art Museum). Following Deanna's talk and questions, tea and snacks will be available.
Posted on 25 October, 2018 by Tanya Loos
STOP PRESS! UPDATE ON OUR THREATENED SPECIES FORUM AND AGM!
In a slight variation to Connecting Country's program for our event on 10 November 2018, our esteemed guest speaker Professor Andrew Bennett has now confirmed he will speak on:
'Can revegetation reverse the decline of woodland birds in rural landscapes?'
Andrew will talk about a study of revegetation and birds in south-western Victoria (Hamilton area) that has results that may be relevant to our local revegetation work.
We're very excited to hear this talk, as Connecting Country's long-term bird monitoring results suggest that the answer is YES. Recent statistical analysis of our data by Dr Kerryn Herman at BirdLife Australia found that restoration sites support a high diversity of bird species (second only to gully or fertile sites). Furthermore, these restoration sites have the highest number of individual birds recorded out of all of our sites.
We'll also hear PhD candidate Jess Lawton present her recent research on the Brush-tailed Phascogale. The updated program flier can be found here.

Join our nature share
Following the popularity of our nature quiz earlier this year, we've planned another fun activity. This time, we ask everyone to bring along a small item of nature that they love or inspires them. It could be an object such as a feather, or an animal-themed shirt, or an artwork of some kind. Each table then decides on which item to share with the wider group. It's a bit of fun – participation is encouraged rather than mandatory!
AGM formalities
Our annual general meeting (AGM) and threatened species forum will be held at Campbells Creek Community Centre (45 Elizabeth St, Campbells Creek VIC) from 4.00 pm – 7.00 pm, with AGM formalities taking place from 4.00 – 4.30 pm. For a copy of our agenda click here.
If you are a Connecting Country member, you are:
Entitled to vote on any and all relevant agenda items. Proxy forms are available if you are unable to attend the AGM, but still wish to vote. These must be received at least 24 hours before the AGM is held.
Able to nominate to join the Connecting Country committee. If you are interested in applying to join the committee, you are encouraged to contact the current president – Brendan Sydes – to talk about what is involved in being on the committee and the opportunities available (email: president@connectingcountry.org.au). A copy of the committee nomination form may be downloaded here.
Please contact Margaret (margaret@connectingcountry.org.au) if you are unsure if you are a member, if you'd like a proxy form, or if you'd like a copy of the 2017 AGM minutes or 2017-18 financial statements to read before the meeting.
RSVP
To ensure sufficient catering and seating, please RSVP by email to margaret@connectingcountry.org.au or call the Connecting Country team on 5472 1594.
All are welcome! Membership forms will be available if you're not already a member of Connecting Country but would like to join.