Posted on 17 December, 2018 by Asha
If you read the Midland Express newspaper, you may have been enjoying Connecting Country's monthly 'Nature News'. This year we featured Landcare stories written by intern Sarah Edwards and local Landcarers. This week, the last of these ten stories was published in the paper, featuring this story written by Brian Bainbridge about the wonderful Taradale Landcare.
Taradale Landcare Group came together over twenty years ago over their shared passion for walking in the bush, managing the land, and learning about native flora and fauna. After many years of committed work, eventually the group lost momentum and folded in 2012.
Following a meeting to gauge interest, several prospective new members and a sprinkling of original members reformed Taradale Landcare in 2016.
Things started slowly with meetings and discussions to learn about the member's priorities and interests- as well as conducting the 'house-keeping' needed to re-establish the group's organisation and accounts. The Back Creek alongside the Mineral Springs Reserve near the centre of town has become a natural focus and base. The group has resurrected the work of the earlier group by treating weeds, uncovering the now maturing plantings, and replanting to fill in the gaps. In 2018, a Mt Alexander Shire Roadside weeds grant has encouraged the group to learn to coordinate and conduct sensitive weed control along the best roadside remnants, a process expected to continue for several years.
The group's walks and talks encourage exploration by the many newly arrived residents of their adopted town's historical sites including the Channel, Barkly Park, the Cemetery and the Quartz Battery, each with important ecological values that could be enhanced. This summer will see the group conduct seed collection (under permit) and propagation of wildflowers, grasses and trees- in consultation with the Cemetery trust.
A theme of the newly emerged group is to engage and have a presence at local gatherings while ensuring the group's own events have a social as well as ecological outcome. Shared meals encourage the sharing of ideas to continue long after the 'real' work has ended.
If you are interested in being a part of Taradale Landcare Group or have any questions, email Colleen Jones at colfjones@yahoo.com.au or like the group's Facebook page at https://www.facebook.com/taradalelandcare/.
Posted on 12 December, 2018 by Frances
The dams and waterways of central Victoria are perfect for catching yabbies over summer. However, poorly designed yabby nets also catch native wildlife like platypus, turtles and rakali (native water rat). Sadly, these air-breathing animals can become trapped in the nets and drown.
Opera house style yabby nets are believed to kill hundreds of platypus each year. In January 2018, the Department of Environment, Land, Water and Planning (DELWP) recorded that 13 platypus died after drowning in illegally set opera house nets in Victoria. DELWP urged Victorians not to use enclosed traps such as opera house nets, and only use platypus-safe alternatives. Senior Wildlife Investigator Mike Sverns said, 'Platypus are an iconic Australian species that are declining. To lose 13 platypus in one year is tragic'.
Opera house nets are banned in all waters throughout Victoria from 1 July 2019. Opera house nets have been phased out and replaced with new open-top lift nets, which are more wildlife friendly. Unlike opera house nets, open-top nets feature a 20 x 20 cm gap at their top, which enables air-breathing animals like platypus to escape. The Victorian Fisheries Authority has conducted trials and shown open-top lift nets are very effective yabby catchers.
When announcing the ban, Minister for Agriculture Jaala Pulford said, 'Opera house nets have been placing our platypus population at risk and so it's time for us to embrace different fishing gear that will catch just as many yabbies without impacting our precious wildlife'.
Many people who have purchased opera house nets to fish for yabbies are unaware of the risks they present to wildlife, and that these nets have long been banned in Victorian public waters. From 1 July 2019 the ban will extend to include all private waters.
If you have an opera house net you should dispose of it and replace it with an open-top lift net. We recommend dismantling old opera house nets, as even on land they can still entangle terrestrial wildlife, leaving them to a slow and painful death.
Major fishing equipment suppliers and responsible retailers have already removed opera house nets from sale, with some participating in a yabby net swap program. However, a few retailers continue to sell opera house nets despite the wildlife risk and imminent ban.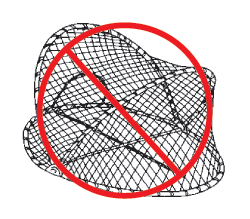 Under the Victorian Wildlife Act 1975 there are penalties associated with taking or being in possession of protected wildlife or using prohibited equipment which is up to a maximum of $38,0562, and/or 24 months imprisonment. To report crimes against wildlife you can call Crime Stoppers confidentially on 1800 333 000 or online at https://www.crimestoppersvic.com.au/report-a-crime/
Posted on 12 December, 2018 by Asha
As per Castlemaine Field Naturalists tradition, their December 2018 general meeting is a chance for any member (or visitor) to make a short presentation. People are encouraged to talk for up to five minutes about a topic related in some way to natural history. It might be photos from a holiday to an exotic location, video footage of birds in your backyard, an analysis of recent weather patterns, or reciting a poem about a forest. It is only limited by your imagination. There will be a projector, PC laptop and screen available for use.
The evening commences from 7.30 pm on Friday 14 December in the Fellowship Room behind the Uniting Church on Lyttleton St, Castlemaine VIC (next door to the Castlemaine Art Museum). Members and visitors of all ages are welcome, and entry is free.
If you'd like, bring along a plate of food to share with everyone afterwards.
For further information on Castlemaine Field Naturalists Club see their website here.