Posted on 22 June, 2022 by Ivan
We would like to extend a warm welcome to our 1,000+ recent arrivals of Silver Banksia and Sweet Bursaria plants at the Connecting Country depot. The plants have arrived from locations all over southeastern Australia, as part of our 'Future-proof our forests' project. In 2021 Connecting Country secured funding support from the Ross Trust to establish two climate future plots of 500 plants each, right here in Mount Alexander region during 2021-23.
We are focusing on two species from our local area, Silver Banksia (Banksia marginata) and Sweet Bursaria (Bursaria spinosa). Both are key species for our local woodlands and landscape. We have sourced a variety of plant provenances of these plants, from local populations as well as some from further away. We started by looking at the Bureau of Meteorology's climate predictions for our region and selected seed from areas that are anticipated to match our climate into the future, focussing on areas that are hotter and drier.
However, we also included seed from areas that are cooler and wetter. We aimed to to include genetics from a wide range of environments, as we don't know what will be important in the future. There may be other genetic information stored within a particular provenance, such as the ability to survive an insect attack, or frost resilience, which plants from the hotter and drier area do not have.
We then paired these predictions with species distribution and the availability of seed or plants, to make our final plant selection.
Connecting Country's Landscape Restoration Coordinator, Bonnie Humphreys, said 'The aim of our two climate future plots is to create seed production areas and provide climate-adapted seed for use in future revegetation projects. They may also help us identify provenances most suited to survive in our changing climatic conditions'. 'We are excited to have reached the stage of planting at the climate future plots, and look forward to watching them grow over and monitoring their progress over coming seasons,' said Ms Humphreys.
The plants will be delivered from the depot to the climate future plot sites in the coming weeks, and guarded by sturdy wire plant guards. Each plot has been carefully set out to allow tracking of each plant into the future.  Mixing up provenances within the plot will increase the likelihood they will share pollen between plants when they flower and reproduce. This sharing of this genetic information may help the plants adapt as our climate changes. Once the plants are established, monitoring will allow us to assess plant growth and success.
Stayed tuned for more updates once the plants are in the ground and protected with plant guards. We will be holding a tour of the climate future plots in coming months.
We would like to thank the Ross Trust for their generous funding for this important project. The Ross Trus is a perpetual charitable trust with a vision to create positive social and environmental change so Victorians can thrive.
Learn more about climate future plots
For more information on climate future plots, see:
Posted on 22 June, 2022 by Hadley Cole
On 2 June 2022 Connecting Country hosted a Landcare Link-up with the theme of 'Getting to know Connecting Country'. Our Landcare Link-ups provide an opportunity for Landcare and Friends groups of the Mount Alexander region to come together and share information, knowledge and experience. Historically, Connecting Country hosts a Landcare Link-up twice a year.
The event was held at the lovely historical Chewton Town Hall on a cold winters evening. Attendees came far and wide from Sutton Grange, Nuggety and Redesdale and represented eight Landcare groups from the region. Frances Howe and Brendan Sydes from Connecting Country gave a brief presentation on the work Connecting Country is involved in outside of Landcare, which covers community engagement, landscape restoration, and biodiversity monitoring.
Attendees enjoyed the opportunity to understand more about Connecting Country as an organisation and meet some of the staff and committee members who make all the work happen. It was also a great chance for neighbouring Landcare groups to discuss some of the restoration challenges they have on the ground and compare notes on the various landscapes the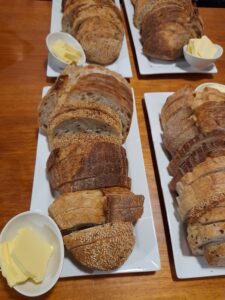 y are working across.
We all enjoyed a hot and tasty vegetable soup and crusty bread for dinner followed by cakes and biscuits for dessert, which were all made possible by generous donations from wonderful local businesses Green Goes the Grocer, Sprout Bakery and Maxi IGA Castlemaine. It is heartwarming to know that local business will dig deep when it comes to supporting our local Landcare groups who do an amazing job in protecting and enhancing biodiversity in the Mount Alexander Region.
A special thank you to Hadley, Marie and Bonnie for setting up the venue and making the soup!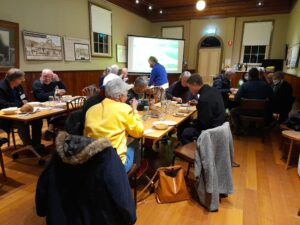 If you would like to connect with your local Landcare or Friends group – click here
To find out more about Landcare in the region, please contact our local Landcare Facilitator, Hadley – hadley@connectingcountry.org.au
Posted on 21 June, 2022 by Ivan
Welcome to our 26th Bird of the month, a partnership between Connecting Country and BirdLife Castlemaine District. Each month we're taking a close look at one special local bird species. We're excited to join forces to deliver you a different bird each month, seasonally adjusted, and welcome suggestions from the community. We are blessed to have both the brilliant Damian Kelly and talented Jane Rusden from BirdLife Castlemaine District writing about our next bird of the month, accompanied by their stunning photos.
Long-billed Corella (Cacatua tenuirostris) and Little Corella (Cacatua sanguine)
Damian Kelly on wild Corellas
The story of Corellas in Australia is one of boom, bust and boom. And along the way some hard lessons have been learnt about misguided control measures that had exactly the opposite impact to what was intended.
Back in 1878 in the Kimberley in Western Australia one estimate put a flock of Little Corellas at 50,000 birds. The noise of their calls was unbearable as anyone who has been close to a flock would appreciate. Many very large flocks have been recorded across various parts of the inland.
The Little Corella has been used as a reliable guide to the presence of water by both the local Aboriginal groups and the later European settlers. Little Corellas are seldom found far from permanent water sources as they drink each day and occupy communal roosts near water in wooded farmlands, tree-lined water courses and nearby scrublands
Unlike northern Australia, in Victoria Little Corellas were first recorded in the dry north-west of the state in 1951. Steady expansion of their range occurred so that by the early 1970s flocks were common throughout the north-west. By 1978 they were recorded near Melbourne, probably assisted by accidental or deliberate releases of captive birds.
First records in Tasmania were in 1982, most likely from releases of captive birds. They experienced a spectacular spread in South Australia from the 1950s. Little Corellas have adapted with ease to the changing environment of farms throughout inland Australia.
Right from the early days they were kept as pets partly because they they are good talkers. There are even early records of some birds speaking in local Aboriginal dialects. They will readily breed in captivity and are also known to hydridise with Galahs and Pink Cockatoos in captivity. Hybrids with Galah have also been recorded in the wild
Long-billed Corellas originally were generally confined to south-eastern Australia. However, feral populations are now established in all states. They prefer wetter habitats compared to the Little Corella.
As a salutary lesson in messing with nature, in the early 1970's large numbers of Long-billed Corellas were trapped by government agencies in grain growing areas. These birds were then sold into the pet trade. However, these wild birds proved to be totally unsuited to being pets and many were subsequently released, adding to feral populations. This impact of human intervention has only served to aid the spread of the birds. Big flocks continue to cause damage to crops in many areas as well as big roosting groups denuding their roost trees.
Life expectancy for both species is around 20 years with some individuals living much longer. So once a mob is established in an area they will be around for a long time.
Jane Rusden on captive rescue Corellas
Interestingly, Damian's research lead us to the realisation that my sweet aviary rescue bird, 'Bird', may well have been one of the Long-billed Corellas captured in the 1970s. His language indicates he's about that age … I won't enlighten you on his full phrase, but 'grouse' is the cleanest word, a word commonly used in the 1970s. Also, his leg band indicates he was taken from a nest during a cull.
Both Corella species are very long lived –  70 years is expected, hence they often outlive owners. This can be a problem as they are very emotional birds who can become very attached to their humans. Their needs are much like those of a human child, but they also have distinctly bird needs as well. If these are not met by their owners, it can lead to a miserable, and sometimes aggressive bird. They are intelligent and crafty. Bird is an excellent escape artist, requiring padlocks on his aviary, which he can open if a key is left in them.
'Chookie' is my Little Corella aviary rescue. He is charismatic, loving, has amazing language, and is very adept at undoing quick links. He bites with pressures over 300 pounds per square inch (PSI). Despite trying, I can't meet his needs and have the physical scars to show for it. He is about to join a large aviary flock, where we hope he will be happier with a mob of his own kind.
Posted on 16 June, 2022 by Frances
Our colleagues and wetland experts, Damien Cook and Elaine Bayes, have some excellent news: The Wetland Plant Identification and Ecology Course is back for 2022! Read on for details from the Wetland Revival Trust.
Commencing December 2022, this course is for anyone interested in Wetland Plant Identification and wetland ecology.
The course is run on three separate days from December 2022 to April 2023 to allow participants to observe the changing seasons and water depths of the stunning Reedy Lagoon, Gunbower Island over a five month period. Each of the three days will focus on a different wetland habitat (wetting and drying) and associated plant community.
To find our more or register – click here
The course is now being run through the new not for profit charitable trust, the Wetland Revival Trust.  All profits from the course will feed into to wetland purchase, wetland projects and management.  See www.wetlandrevivaltrust.org to find out more.
To download the full course information flyer – click here