Posted on 16 November, 2015 by Connecting Country
Renowned local ecologists, Elaine Bayes and Damien Cook have produced two terrific youtube videos:'Frogs and their Calls'  and 'Frogs and their Habitats'. The information is well presented and relevant to our local area. Each goes for about 30 minutes. Click on each image below to view: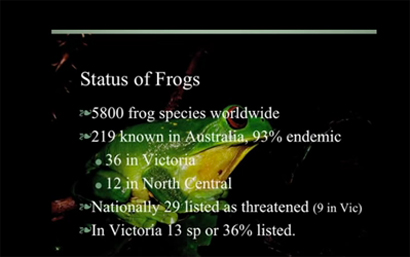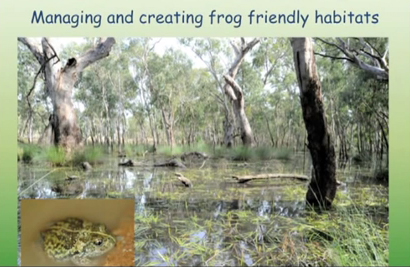 Posted on 19 October, 2015 by Connecting Country
Connecting Country Works Crew Member, Ned Brook, shares a moment from out on the job on the Muckleford Creek…
The Connecting Country Works Crew are out fencing along Muckleford Creek. The nearby cows are restless, they've been restless all morning. They're young cows, perhaps they are just a little jittery. But these cows have been on this property for a while now, something is up.
"Do you know what's wrong?"
We say to one another.
"No, but they seem really uneasy."

"I know, they've been like this all morning."

"Yeah, I think something's wrong, I just don't know what."
I continue with my work, fencing off these very cows from the creek bank that they use. Cows are lovely creatures but they are not selective; they will eat anything that's green. The grass on the creek banks is usually greener, and stays greener for longer. So the cows will continuously graze until the grass, using all its energy to grow and stay alive, has had enough.
All of a sudden, the cows move through a gap in the fence where they can cross the creek. Their hard hooves and immense weight pass over the now bare soil on the creek bank. They push it further down, compacting it, and at times collapsing whole sections. If the situation persists the soil will slowly degrade and become weak and vulnerable.
The cows pass through the unhappy creek. You can tell it is unhappy because it hasn't seen water for a long time, aside from the floods that carve whole sections off the vulnerable bank. Now the trees seem upset too with their gnarled roots exposed. This is why we are fencing this creek off, to give it a chance to rehabilitate and be happy again.
The cows move further away into the property, then take a sweeping left turn and move back toward the creek and stop. They all stop at once. I also stop, and stare.
In groups of two or three the cows move slowly forward, stare a long time at something on the ground, sniff some, then return to the group. It takes a while for me to realise what they are doing. One of their friends, their comrades, has fallen, passing away in the night due to some ailment. The cows have come to farewell a friend.
Posted on 23 September, 2015 by Connecting Country
Connecting Country Works Crew Member, Ned Brook, shares his love to our mighty paddock trees…
I noticed you out of the corner of my eye. I wasn't supposed to be looking for you, we were meant to have our attentions on a malfunctioning drainage pipe, but I saw you all the same.
I saw you as we were driving over toward Maldon. The area surrounded on three sides with metamorphic mountains and a depression in between. This is where I found you.
I turned, after I caught a glimpse of you, and witnessed your full majesty. Standing there, tall and strong, healthy. A Yellow box. A beacon to birds and wildlife all around you. I was so taken back by you that I couldn't concentrate on the pipe.
I thought to myself, you stand there, tall and magnificent, providing invaluable services to all around you. To the farmer who relies on you to keep that troublesome water table down below. To the birds who you feed, in their thousands, that visit you every year. To the koalas, possums, phascogales who you protect. Not to mention the teeming insects that live within and use your trunk and bark as a home.
It impressed me how you stand and provide this service with little need or thanks. But you're beyond that aren't you, you've been here far longer than any of us.
But there is something you need, that we can help with. You have a few friends in the paddock with you, some equally aged and wise old things that I'm sure you converse with regularly. But what about the young ones? Where are your children? Who's there to take up the reigns when you finally decide to take a final rest? What you need is a fence.
We've helped out some brothers and sisters of yours, in a special paddock over in Sutton Grange. We planted friends for them, young boisterous things that will settle down with age. And we fenced them in, to protect them from the wandering cattle and mischievous sheep. But we wouldn't even need to do this for you. All you need is a fence, some room to grow, and you'd do the job yourself.
Posted on 14 September, 2015 by Connecting Country
As winter comes to an end, so does the planting season for revegetation.
It's been a busy few months for the Connecting Country team, who have been planting and direct seeding indigenous species on private lands around the Mount Alexander Shire. Our work aims to creating better links for wildlife movement between the existing important habitat areas.
This year brought a new team of crew members – Lauren, Ned and Jason. The crew, which turns over each year in order to make the opportunity available to as many local people as possible, have been focused on planting, weed and rabbit control and the installation of protective fencing – while also receiving formal and in-house training in a range of natural resource management techniques.
'Often the diversity is there in the landscape ready and waiting – we just need to give the seeds a chance. Fenced off land allows not only the trees to establish and grow, but also those bushes and ground herbs and grasses that are such important wildlife habitat' says Alex Schipperen, team leader of the works crew.
'The beauty of this program is that we have funding available to partner with landholders and create habitat solutions that suit the landholder, and have great outcomes for biodiversity. Bringing areas of native vegetation onto a property also increases productivity by providing shade and shelter for stock, and increased protection for crops, so it's a win-win situation.'
With the winter rush over, the team are now starting to plan the next round of projects. Land owners across the region who would like to see if their property is well placed to become part of these projects are encouraged to get in touch with Jarrod, Bonnie or Mel at the Connecting Country office on 5472 1594 or send an email to jarrod@connectingcountry.org.au .
This project has been supported by Connecting Country, through funding from the Australian Government.
Posted on 5 December, 2014 by Connecting Country
One of the most threatened species to occur in the Mount Alexander shire and surrounds is the Golden Sun Moth (Synemon plana).  This day-flying moth is considered to be 'critically endangered' on Federal legislation and 'threatened' on state legislation.  Its preferred habitat is native grasslands and grassy woodlands, but it is also occasionally seen flying over agricultural paddocks that still contain a good cover of native grasses – particularly wallaby grass (Austrodanthonia spp.).
This moth has an unusual life history – the full details of which are still being discovered.  The adult female moth rarely, if ever, flies.  Instead, she will mostly perch on the bare ground between grass tussocks on warm-to-hot days during the months of November to January, displaying her golden-coloured hind wings.  The male moths (which have reddish-coloured hind wings) fly low over the sparse grassy vegetation, on the look-out for the female moths.  After mating, it is believed that the female lays her eggs near the base of grass tussocks.  The larvae then emerge from the eggs, and burrow down into the soil to feed; maybe on the roots of the grasses – or perhaps they feed on the mycorrhizal fungi that grows on the roots.  After one or more years underground feeding, the larvae then pupate and emerge as adults moths to begin the cycle again.  The adult moths have no mouthparts at all – and as such they only live for a maximum of 3-4 days after emerging, which is as long as their stored energy allows.
The adults moths will also often emerge en masse.  It is suspected that this is part of a strategy to overwhelm predators such as spiders and robber flies.  Certainly for these predators, the annual emergence of Golden Sun Moths represents a major feeding opportunity.
Adult Golden Sun Moths have been seen in Walmer, Barkers Creek and Taradale over the past couple of weeks by Connecting Country staff member Chris.  Last season they were also seen near Castlemaine, Sandon and Sutton Grange.
A local landholder to the north of Castlemaine provided Connecting Country with the following incredible series of photos of adult moths that she took from her property last summer (2013-14).
Posted on 16 May, 2011 by Connecting Country
With this post, Connecting Country is launching their appeal for observations of Wheel Cactus to be lodged onto the Community Interactive Mapping Portal. Each month, a randomly chosen submitter of Wheel Cactus records will receive a prize. This month's prize is a copy of Wildlife of the Box-Ironbark Country by Chris Tzaros.
Wheel Cactus Opuntia robusta is an emerging major weed species across Victoria. It has been a substantial problem in the broader Maldon area for many years, and is a potential risk of becoming a similar problem across most of the Mount Alexander Shire and surrounds. The Tarrengower Cactus Control Committee, with Parks Victoria, has made significant inroads in controlling major infestations around the Maldon-Tarrengower area. However, every Wheel Cactus plant is a potential source for a new out-break, and no part of the shire – including gardens, reserves and agricultural land – is immune.
The Department of Primary Industries are also undertaking a project that analyses the spread of Wheel Cactus spread from the Maldon area, and are seeking as many records as possible from all across the region.
With these thoughts in mind, Connecting Country has offered the use of their Community Interactive Mapping Portal (CIMP) to assist in the mapping of Wheel Cactus. The CIMP is a tool that allows any person with access to the internet to submit observations or other activities of interest (e.g. flora, fauna, revegetation, weeds) for particular point locations across the local area. All community members and groups are encouraged to submit past and present location records of Wheel Cactus, as well as other associated information. ANY Wheel Cactus records, even just dots on the map are useful, but more accurate records will be more valuable.
Further details on the Wheel Cactus mapping project, the use of the CIMP and also information on the identification and biology of the Wheel Cactus, can be found by clicking here.