Landcare Link-up – 22 February 2021
Posted on 25 January, 2021 by Asha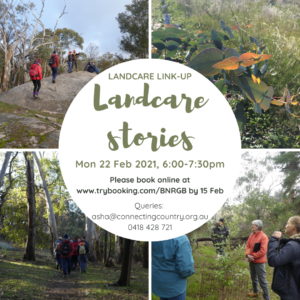 You are invited! Representatives from Landcare/Friends groups in the Mount Alexander Region Landcare Network, along with other interested community members and stakeholders, are invited to the biannual Mount Alexander region Landcare Link-up.
As always, the February Link-up will be focused on Landcarers sharing stories of their work. In lieu of in-person presentations, this year local groups have been invited to share a short video update to minimise COVID-19 risks. These will be shared at the Link-up and on the Connecting Country website. Along with the video updates, attendees will be invited to gather in small discussion groups, each focussed on a topic of interest to local Landcarers. Hot drinks and light supper provided.
When: Monday 22 February 2021, 6:00 PM to 7:30 PM
Where: Please book for venue details, as places may be limited due to COVID-19 restrictions.
RSVP: Please book online at https://www.trybooking.com/BNRGB by Monday 15 February 2021.
More information: Email asha@connectingcountry.org.au or call 0418 428 721.