A successful Landcare Link-up for winter 2022
Posted on 22 June, 2022 by Hadley Cole
On 2 June 2022 Connecting Country hosted a Landcare Link-up with the theme of 'Getting to know Connecting Country'. Our Landcare Link-ups provide an opportunity for Landcare and Friends groups of the Mount Alexander region to come together and share information, knowledge and experience. Historically, Connecting Country hosts a Landcare Link-up twice a year.
The event was held at the lovely historical Chewton Town Hall on a cold winters evening. Attendees came far and wide from Sutton Grange, Nuggety and Redesdale and represented eight Landcare groups from the region. Frances Howe and Brendan Sydes from Connecting Country gave a brief presentation on the work Connecting Country is involved in outside of Landcare, which covers community engagement, landscape restoration, and biodiversity monitoring.
Attendees enjoyed the opportunity to understand more about Connecting Country as an organisation and meet some of the staff and committee members who make all the work happen. It was also a great chance for neighbouring Landcare groups to discuss some of the restoration challenges they have on the ground and compare notes on the various landscapes the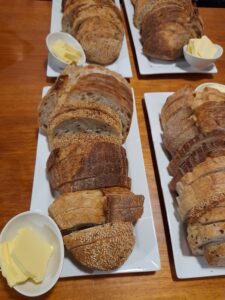 y are working across.
We all enjoyed a hot and tasty vegetable soup and crusty bread for dinner followed by cakes and biscuits for dessert, which were all made possible by generous donations from wonderful local businesses Green Goes the Grocer, Sprout Bakery and Maxi IGA Castlemaine. It is heartwarming to know that local business will dig deep when it comes to supporting our local Landcare groups who do an amazing job in protecting and enhancing biodiversity in the Mount Alexander Region.
A special thank you to Hadley, Marie and Bonnie for setting up the venue and making the soup!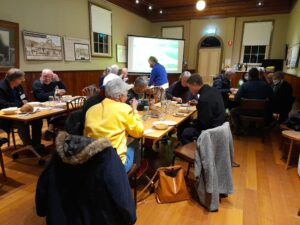 If you would like to connect with your local Landcare or Friends group – click here
To find out more about Landcare in the region, please contact our local Landcare Facilitator, Hadley – hadley@connectingcountry.org.au