12 Aug 2017 – Cultural morning at Castlemaine parkrun
Posted on 8 August, 2017 by Connecting Country
Connecting Country's blogs have rarely – if ever – addressed sports-related events.  However, this weekend's Castlemaine Parkrun is an exception, as they are holding a special cultural-awareness event, and they are inviting everyone from the local community and beyond to join in.
Parkrun is an not-for-profit organisation that supports volunteers to host free timed 5km events each week at locations throughout the world, to be enjoyed by people of all ages and abilities – from walkers to experienced runners, children to retirees, and everyone in between.   It is not a race, but a chance for people to improve their health in a local parkland setting with a friendly supportive atmosphere.
There has been a weekly parkrun held in Castlemaine for more than 2 years, early every Saturday morning at the botanic gardens.  It starts and finishes just near the BBQ and playground area.  Connecting Country's Co-Director, Chris, is a regular attendee.
As described on their Facebook page, this special parkrun event at Castlemaine will commence on Saturday 12 August at 7:45am and will include both a welcome and a smoking ceremony by representatives from the local aboriginal community.  At 8am, the standard 5km event will occur – 3 laps of the botanic gardens at your own pace. (If on leads, dogs are also always allowed on the walk).  There will then be cultural activities after the run at 9am, as well as food and drink from the Myrnong Mammas.  Attendees are encouraged to get in the spirit of the day by wearing Red/Yellow/Black.
All community members (runners, walkers, onlookers) are invited to what should be a great morning.
As noted above, parkrun is a free event.  First time participants are encouraged to register beforehand, but it is not compulsory to do so (more details on the Castlemaine parkrun homepage – click here).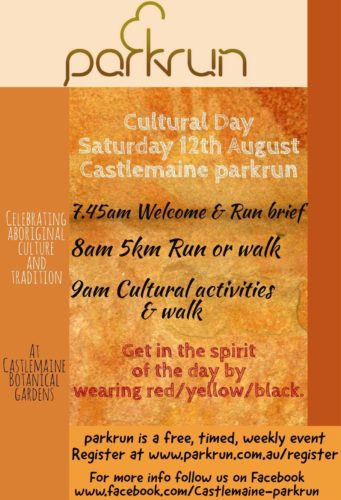 One response to "12 Aug 2017 – Cultural morning at Castlemaine parkrun"