Who will be our lucky 1,000th follower?
Posted on 25 July, 2019 by Ivan
Love it, or hate it, Facebook and the social media titans have changed the way many of us interact with the world and our community. Connecting Country has moved with the times and has an excellent website and a strong online presence through Facebook. It allows us to tell our story, and yours, through image, videos and words, as well as getting feedback from you!
We are sitting very close to 1,000 followers on Facebook, so its time to celebrate the milestone with a give-away prize for our 1,000th Facebook follower! We would like to offer a choice of three local books, to connect and educate our community with our natural heritage. The three books are listed below, all published by our local champions at Friends of the Box-Ironbark Forests (FOBIF).
Wattles of the Mount Alexander Region
by Bernard Slattery, Ern Perkins and Bronwyn Silver
This 112 page guide, Wattles of the Mount Alexander Region, helps the beginner to make a start. In plain language, and generously illustrated, it presents 21 species that flourish in the Mount Alexander region of central Victoria. A general introduction explains different features of wattles, helping in identification and appreciation of these tenacious and beautiful plants. The book is published by FOBIF in association with Castlemaine Field Naturalists Club and Connecting Country.

Eucalypts of the Mount Alexander Region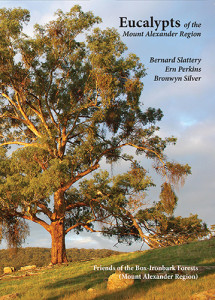 by Bernard Slattery, Ern Perkins and Bronwyn Silver
This 90 page guide aims to help the beginner train the eye to see the differences between eucalypts, and to appreciate how spectacular they are. It presents common species of the Mount Alexander Region, generously illustrated and clearly described in plain language. Though firmly based on forests and reserves around the town of Castlemaine, it describes species common to the whole Box-Ironbark region, and would be useful to any enthusiast in that region, from Ararat to Chiltern. Sections on major species include drawings of buds, fruit, juvenile leaves and adult leaves by Leon Costermans. The book is a community project of FOBIF with a generous grant from the Worrowing Fund through the Norman Wettenhall Foundation. Castlemaine Field Naturalists' Club and Connecting Country also provided support.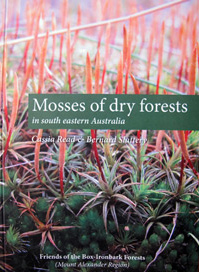 Mosses of dry forests in south eastern Australia
by Cassia Read and Bernard Slattery
A guide for students and absolute beginners – technically accurate, but free of technical language – this book presents a little-known part of the plant kingdom to a new audience. The guide contains an introduction explaining the life cycle of mosses and their importance in the ecosystem, tips on how to approach identification, detailed descriptions of common species, and appendices carefully distinguishing mosses from liverworts and lichens. This is a community project of FOBIF generously supported by The Norman Wettenhall Foundation.

So, who will be the lucky number 1,000th follower on Facebook? Click away for a chance to win, if you're quick ……..