Good riddance to deadly opera house yabby nets
Posted on 12 December, 2018 by Frances
The dams and waterways of central Victoria are perfect for catching yabbies over summer. However, poorly designed yabby nets also catch native wildlife like platypus, turtles and rakali (native water rat). Sadly, these air-breathing animals can become trapped in the nets and drown.
Opera house style yabby nets are believed to kill hundreds of platypus each year. In January 2018, the Department of Environment, Land, Water and Planning (DELWP) recorded that 13 platypus died after drowning in illegally set opera house nets in Victoria. DELWP urged Victorians not to use enclosed traps such as opera house nets, and only use platypus-safe alternatives. Senior Wildlife Investigator Mike Sverns said, 'Platypus are an iconic Australian species that are declining. To lose 13 platypus in one year is tragic'.
Opera house nets are banned in all waters throughout Victoria from 1 July 2019. Opera house nets have been phased out and replaced with new open-top lift nets, which are more wildlife friendly. Unlike opera house nets, open-top nets feature a 20 x 20 cm gap at their top, which enables air-breathing animals like platypus to escape. The Victorian Fisheries Authority has conducted trials and shown open-top lift nets are very effective yabby catchers.
When announcing the ban, Minister for Agriculture Jaala Pulford said, 'Opera house nets have been placing our platypus population at risk and so it's time for us to embrace different fishing gear that will catch just as many yabbies without impacting our precious wildlife'.
Many people who have purchased opera house nets to fish for yabbies are unaware of the risks they present to wildlife, and that these nets have long been banned in Victorian public waters. From 1 July 2019 the ban will extend to include all private waters.
If you have an opera house net you should dispose of it and replace it with an open-top lift net. We recommend dismantling old opera house nets, as even on land they can still entangle terrestrial wildlife, leaving them to a slow and painful death.
Major fishing equipment suppliers and responsible retailers have already removed opera house nets from sale, with some participating in a yabby net swap program. However, a few retailers continue to sell opera house nets despite the wildlife risk and imminent ban.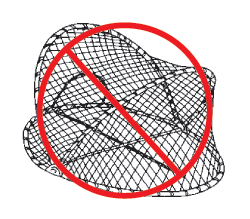 Under the Victorian Wildlife Act 1975 there are penalties associated with taking or being in possession of protected wildlife or using prohibited equipment which is up to a maximum of $38,0562, and/or 24 months imprisonment. To report crimes against wildlife you can call Crime Stoppers confidentially on 1800 333 000 or online at https://www.crimestoppersvic.com.au/report-a-crime/